China Large Caps Emerge on Top as Investors Seek State Shelter
(Bloomberg) -- Large-cap shares are emerging as a haven in China's stock market for investors worried about a slowing economy and trade war with the U.S.
While the Shanghai Composite Index suffered a fourth straight quarterly drop, the SSE 50 gauge of big-cap, mostly state-owned companies has jumped 5.1 percent and trades at its most expensive to the broader measure since December 2014. The yuan weakened for a second quarter, and bond yields rose.
Speculation the government will increase stimulus spending to offset the effects of U.S. trade tariffs helped lift cement producers to banks this month, while large caps also gained on optimism they'll lure outsized inflows thanks to MSCI Inc. and FTSE Russell index inclusion.
"Given there is so much negative news surrounding the market this year, investor appetite is increasingly risk-averse," said Zhang Gang, an analyst with Central China Securities Co. "So investors rushed to blue chips and walked away from small-cap stocks because small caps are relatively high in valuation and there's a lack of liquidity and growth momentum."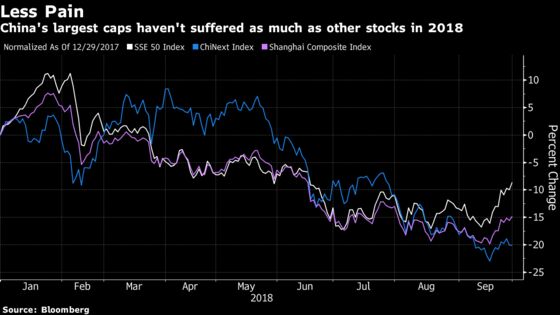 While China equity analysts expect stocks to rebound in the final three months of 2018, they were wide of the mark in their predictions for the previous two quarters. "Macro policies to uphold stability have begun to appear so there will be a rebound, but its strength and stability remain to be seen and depend on how polices are carried out," said First Shanghai Securities Ltd. strategist Linus Yip in Hong Kong.
The Shanghai Composite Index fell 0.9% in the third quarter. The gauge, one of the worst performers in the world this year with a 15% retreat, hit its lowest since November 2014 on Sept. 17. That said, it gained 3.5% in September as investors bet the government will spend more on building projects
The SSE 50 Index climbed 5.1% in the third quarter, its best showing this year. China Railway Construction Corp., PetroChina Co. and New China Life Insurance Co. were the leading gainers
The ChiNext Index of small-cap and tech shares fell 12% in the third quarter after a 15% slide in the previous three months
The onshore yuan slumped for a second quarter, down about 3.8% in the three months through September. The currency has faced pressure from the trade dispute and bets China's central bank would ease monetary policy further to shore up growth
The currency touched the weakest level since January 2017 in mid-August, before policy makers moved to stem declines with stronger fixings and as liquidity tightened offshore
The offshore yuan lost 3.5% in the third quarter after dropping 5.6% in the previous three months
The Bloomberg replica of the CFETS RMB Index, which tracks the yuan against 24 exchange rates, slid 3.5% for its biggest quarterly decline since the composition of the basket was last adjusted in early 2017. The yuan is close to the weakest level since May 2017 against peers
The yield on 10-year government bonds climbed for the first time in three quarters, rising 15 basis points to 3.63%
That came as China's seven-day and overnight repurchase rates rose from multi-year lows amid tighter cash supply
The yield spread between China's sovereign debt due in a decade and its U.S. counterpart was last at around 60 basis points, about one third of last year's peak in November
The one-month interbank borrowing cost surged to the highest since 2008, narrowing its gap with the U.S. rates to about 3 basis points, compared with more than 100 basis points in April
The city's de facto central bank stepped in to support the currency from dropping beyond the weak end of its trading band multiple times in August
Hong Kong banks, including HSBC Holdings Plc, Standard Chartered Plc and Hang Seng Bank Ltd., boosted their prime rates for the first time since March 2006 this week
The cost of the Hong Kong dollar's interest-rate swaps is close to the highest in nearly a decade, suggesting traders are pricing in even higher borrowing costs