Chinese Stocks Continue Wild Ways as Earlier Gains Evaporate
(Bloomberg) -- Chinese shares continued their pattern of wild swings on Wednesday, while Hong Kong's equity benchmark fell to its lowest since May 2017.
The Shanghai Composite Index closed up 0.3 percent, having risen as much as 1.8 percent and fallen 0.7 percent during the day. Financial shares were among the best performers in China, with a measure of the sector advancing 1.7 percent. Pacific Securities Co. soared 10 percent. The Hang Seng Index gave up earlier gains to finish 0.4 percent lower, extending yesterday's 3.1 percent slide. The yuan, meanwhile, was steady.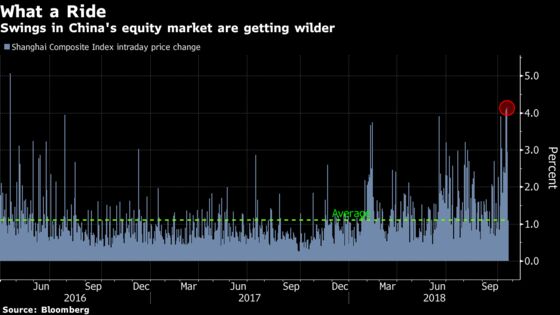 Chinese equities have turned volatile since the country's top officials launched a sweeping campaign to stop a slide that made the Shanghai benchmark one of the worst performers in the world this year. The gauge has now seen intraday swings exceeding 2 percent for seven sessions, matching a streak of turbulence in early February when U.S. volatility rocked global stocks.
Investors expect more measures to improve liquidity and support companies that are in trouble, boosting sentiment on financial stocks and the broader market, said Bai Yuhan, an analyst with Fortune Securities Co. "The Shanghai Composite has shown resistance at 2,600, which signals it may be the bottom line for regulators." The index ended the day at 2,603.30.
Trade tensions with the U.S., a slowing Chinese economy and a campaign to curb debt have weighed on the country's equities this year. President Xi Jinping is among those to recently voice support for the market. The central bank plans to give 10 billion yuan ($1.4 billion) to China Bond Insurance Co. to provide credit support for debt sales by private enterprises, Bloomberg reported Tuesday.
Inner Mongolia Yili Industrial Group Co. dropped 7.2 percent, its biggest loss since Aug. 31, after the dairy firm said in a letter published on its website and social platform accounts that former chairman Zheng Junhuai is behind attacks to undermine it.
Hang Seng heavyweight Tencent Holdings Ltd. swung from a gain of 2.5 percent to a loss of 2.1 percent. It finished at HK$275.80, down 0.7 percent. Chinese regulators have ended the issuance of game licenses through a stopgap approval process, people familiar with the matter said, closing the last known official path for making money from new titles in the world's biggest gaming market.