China Stocks Are Overheating Just as Bond Traders Flee to Safety
(Bloomberg) -- Warning signs abound for stocks in Shanghai, Hong Kong and Shenzhen this week, with buying momentum particularly notable in the market's most speculative segments.
While equity investors locked in gains Friday after another round of Sino-U.S. talks yielded no agreement on trade, China's small caps outperformed. The ChiNext ended up 6.8 percent for the week while a gauge of large caps was relatively flat. Speculators also chased this year's hot 5G trade, snapping up every telecom in sight -- Eastern Communications Co. jumped as much as 10 percent Friday despite saying it doesn't currently make next-generation network equipment. It's up 52 percent just this week.
The question is whether this year's advance in Chinese equities will hold. Optimists say valuations are still low after an awful 2018, earnings can only improve after a wave of profit warnings, and foreigners are buying. But skeptics warn that deregulation could stoke the kind of risky behavior that triggered a meltup in 2015 -- leveraged trading is already picking up.
It's an entirely different story in China's debt markets. Data showing a slowdown in factory prices have added to concerns about the return of deflation and increased the likelihood of more easing from the central bank (Citigroup Inc. analysts expect an interest-rate cut). That's all ensured government bonds continue to be well bid -- the benchmark 10-year bond yield remains close to 3 percent despite surging risk appetite in the equity market.
Flight to safety is also the trade in China's corporate-bond market. Traders are piling into corporate debt with high credit ratings, as well as bonds sold by the central government and local authorities. Junk notes are falling out of favor, with spreads the widest in about seven years.
This chart shows just how quick the run-up in stocks was after the Lunar New Year break.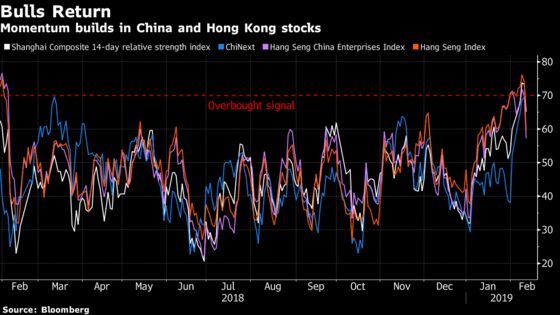 Here's what else caught our eye:
How China's JPMorgan wannabe became a huge debt risk.
Big borrowers keep missing their bond payments.
The government-bond rally still has legs.
And this could be the duration trade of the decade.
Large convertible bond poised to storm out of gate.
Index shifts may pull $121 billion into emerging markets.
Lunar New Year home sales were disappointing.
Hong Kong's Hibor may be on the way out.
Apple iPhone shipments dive in China.