China State Media Stoke Speculation Property Crackdown May Ease
(Bloomberg) -- China's efforts to limit fallout from China Evergrande Group's crisis are gathering steam.
A series of articles published in state media in the past few days signal support measures are on the way to help developers tap debt markets, potentially easing a liquidity crunch that began with Evergrande's meltdown five months ago.
Stocks and bonds of property firms jumped for a second day on reports that regulators may adjust rules so that real estate firms can sell debt in the domestic interbank market. Another report showed state-owned enterprises are pushing for the right to increase borrowing for mergers, which could make it easier for them to scoop up struggling developers. State-run banks meanwhile boosted lending to the sector last month, state media reported.
"The reopening of the onshore bond market is critical," said Raymond Cheng, head of China-Hong Kong research at CGS-CIMB Securities Ltd. "Without this, the market had previously expected that half of developers would have difficulties repaying bonds due in the next three to six months."
The moves, if implemented, fall far short of a wide-ranging bailout of the embattled sector, and don't suggest President Xi Jinping is abandoning his "three red lines" policy that limits borrowing by property firms. Xi has stressed many times that housing is "for living in, not for speculation," as he looks to lower property prices as part of his "common prosperity" initiative.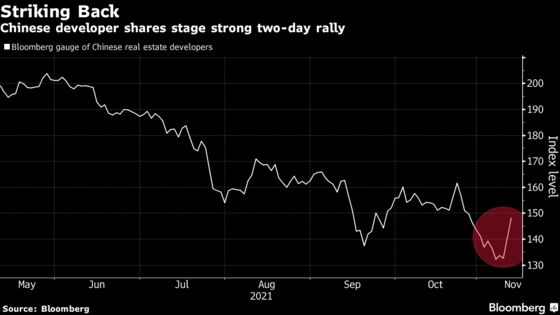 Still, the potential easing offers some relief for developers that have been shut out of credit markets, with yields on junk-rated bonds soaring to a decade-high of almost 25% this week. It also provides some stability for financial markets, which have been roiled by the Evergrande crisis.
China's high-yield bonds extended gains, climbing 2 to 8 cents on the dollar, according to credit traders, on track for the biggest jump in at least three weeks. A China Aoyuan Group Ltd. dollar bond rose 11.6 cents on the dollar to 40.3 cents, according to Bloomberg-compiled data, on pace for a record gain after 16 straight declines.
A gauge of Chinese property stocks soared 5.6%, capping the biggest two-day gain in more than six years. Evergrande rose 6.8%, its third day of gains, while Sunac China Holdings Ltd., the nation's third-biggest developer, added 8.4%.
"The fuse that triggers the collapse of an enterprise is often the consistent risk perception caused by contagion of negative market sentiment," according to a commentary in the Securities Times. "A stable market expectation is an important prerequisite for the stable development of an industry."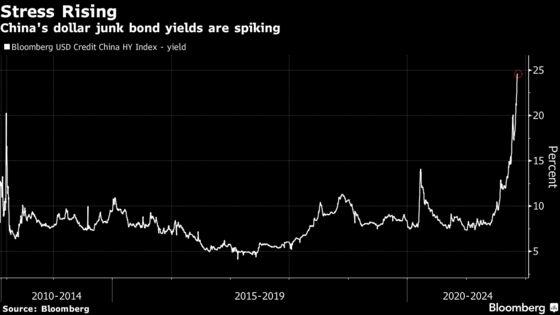 The credit easing and market rebound come at a key juncture for Xi, who is scheduled to deliver a landmark document Thursday that could give him the mandate to potentially rule for life as a major Communist Party summit wraps up in Beijing. The president is also expected to meet his U.S. counterpart Joe Biden as early as next week. The Federal Reserve recently warned that the fragility in China's real estate sector could spread to the U.S. if it deteriorated dramatically.
State-run banks are also stepping up support for the property sector. Lending to developers rose sharply in October, and the momentum is expected to extend into November, the country's flagship securities newspapers reported.
The China Securities Journal, Shanghai Securities News and Securities Times all carried similar reports Thursday on their front pages, which elaborated on October credit data released by the People's Bank of China. Mortgages also picked up in the month, the central bank said a separate report, releasing rare monthly data in an apparent attempt to calm concerns. 
The data "showed that a 'marginal easing' has appeared in financial policy on housing, reflecting the official policy direction to maintain healthy development of the real-estate market and safeguard legitimate interest of homebuyers," the China Securities Journal quoted Zhixin Investment analyst Ma Hong as saying.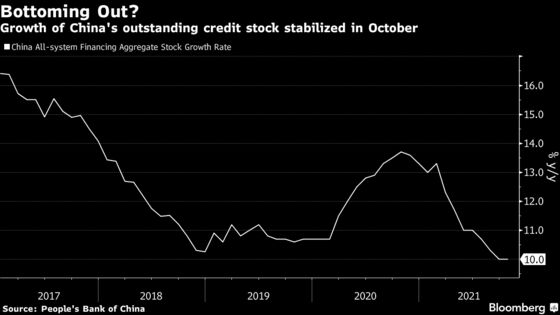 Reflecting Beijing's intention to convey the property easing signal to the general public, the PBOC even put out a standalone report Wednesday night to highlight the October home lending figures. The data showed outstanding personal mortgage loans rose 348.1 billion yuan ($54 billion) month-on-month to 37.7 trillion yuan. 
The release is rare because the PBOC has only provided quarterly figures for mortgages in the past. The Securities Times said in a commentary that it's aimed at "addressing market concerns."
"The unusual disclosure of a monthly figure is clearly another attempt to calm market sentiment," Gavekal Dragonomics economists Wei He and Xiaoxi Zhang wrote in a note. "The data confirms anecdotal reports that banks have been allowed or encouraged to pick up the pace of mortgage lending."
It's unclear if the new measures will be enough to save Evergrande. The property giant is set to skirt default again Thursday by making coupon payments on three bonds with $3 billion outstanding. Evergrande missed the initial interest deadlines for $148 million of coupons last month, Bloomberg-compiled data show.
That buys the firm time until its next big round of maturities in early 2022, but with $300 billion in total liabilities, investors are still pricing in some kind of restructuring. Even with the recent market rally, the dollar bond due in 2025 is trading at about 23.5 cents on the dollar, and S&P Global Ratings has said a default is likely given the government isn't expected to provide any direct support.