China Slaps Duties on Australian Barley as Tensions Escalate
(Bloomberg) -- China slapped anti-dumping duties on Australian barley for five years as diplomatic tensions escalate between the two trading partners.
Australia's biggest customer for the grain will impose an anti-dumping duty of 73.6% and an anti-subsidy duty of 6.9%, effective from May 19, according to a statement from China's Ministry of Commerce late Monday. Industry groups are warning the measures will gut an export market worth A$1.4 billion ($898 million) in 2017.
Australia's government, which has fueled tensions with China in recent weeks by calling for an independent investigation into the origins of the coronavirus pandemic, has indicated it may appeal to the World Trade Organization.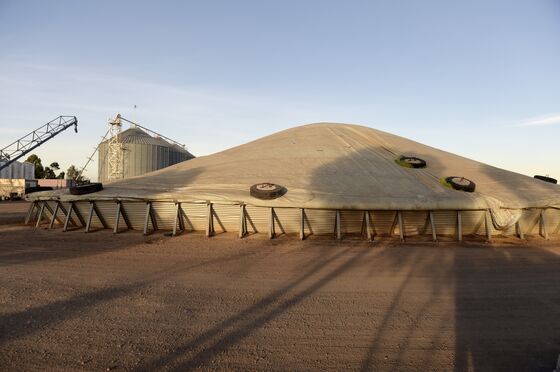 "China's decision is one that does concern us deeply, because it appears to have been based without a proper understanding of the facts or the evidence," Trade Minister Simon Birmingham told reporters in Adelaide on Tuesday. The government would study the move and liaise with the farming sector "so that we construct the best pathway forward to appeal the decision, to get the decision reversed."
Relations have soured since Prime Minister Scott Morrison lobbied Group of 20 leaders for a probe into China's handling of the outbreak. Meat imports from four Australian processing plants have also been suspended. Beijing's embassy in Canberra has warned that Chinese consumers could choose to boycott the nation's exports -- a threat that Australia has called "economic coercion."
China has had its "guns loaded and pointed at Australia" through warnings it could use trading ties to retaliate in political disputes, said Giovanni Di Lieto, a Melbourne-based lecturer in international business and economics at Monash University. He warned of the possibility that other industries such as tourism and education could face Beijing's sanctions. "China is being very surgical in targeting where it can really hurt Australia without hurting itself."
The tariffs were imposed on the same day President Xi Jinping told the World Health Assembly, the governing body of the Geneva-based World Health Organization, that China would make any coronavirus vaccine universally available once it's developed. He's sought to defuse criticism of his government's response to the pandemic that's killed more than 315,000 people around the world.
China has come under fire from the U.S., European Union and Australia over its initial handling of the outbreak and subsequent heavy-handed response to any criticism.
China is the biggest buyer of Australian agriculture, forestry and fisheries products, with shipments of A$16 billion in 2018-19, according to Australian government figures. That's six times more than it was about two decades ago.
Diplomatic relations between the trading partners have worsened in recent years, with Australia saying Beijing's "meddling" in its government, media and education system was a catalyst for anti foreign interference laws pass in 2018. Like the U.S., Australia has also banned Huawei Technologies Co. from building its 5G network.
The Chinese government has denied its trade action is linked to the call for a virus probe, describing the meat ban as a health and safety issue. It's anti-dumping probe into barley has been underway for about 18 months.
"China never says it's retaliation, but China does have a history of using agricultural trade as a political lever, going back at least 10 years," Tim Hunt, Rabobank's head of food and agribusiness research for Australia, said earlier this month.
Tony Mahar, National Farmers' Federation chief executive officer, is urging Birmingham to appeal to the WTO against the barley tariffs.
"It is a significant and devastating hit to the Australian agriculture industry," Mahar told ABC News.
Grain Producers Australia Chairman Andrew Weidemann told Sky News that the tariffs could cost the barley industry more than A$500 million.
"It's a major loss to the economy, it's a major loss to rural communities, " he said.
Agriculture Minister David Littleproud rejected any notion that the two nations were entering a trade war.
"There is no trade war," he told Sky News on Tuesday. "Everyone needs to take a deep breath, take a cold shower and understand that we produce the best food and fiber in the world and we have marketplaces that we'll be able to send our barley and other produce into other markets if our producers wish to do so."