China Shares in Hong Kong Slide to Lowest Since August 2017
(Bloomberg) -- Losses in Chinese equities accelerated Tuesday, with a gauge of stocks in Hong Kong closing at its lowest level since last August.
The Hang Seng China Enterprises Index fell 1.1 percent, its biggest loss since July 11. The Shanghai Composite Index dropped 0.6 percent for its third straight decline. Oil producers weighed heavily on both gauges after crude slumped more than 4 percent on Monday, while banks also dragged.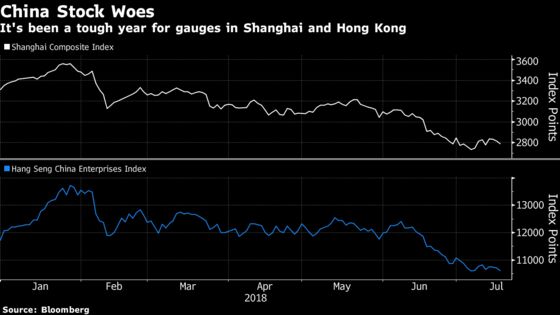 "The rebound last week was built on expectations of improving economic fundamentals and liquidity conditions as well as a slowdown in deleveraging, while the latest data suggest otherwise," said Ken Chen, Shanghai-based analyst with KGI Securities Co. "Investor confidence weakened and stocks will likely remain weak before China rolls out monetary and fiscal policy stimulus."
Data on Monday showed China's gross domestic product growth at 6.7 percent in the second quarter, in line with with estimates but the slowest since 2016. Industrial production was slightly weaker than expected in June, while retail sales grew 9 percent from a year earlier, compared with a forecast of 8.8 percent.
"Some investors might hold a less optimistic view on the economy after the latest data, despite some figures actually being mild," Tianfeng Securities Co. strategist Liang Jinxin said. "Industrial production didn't fall off the cliff, and credit data didn't turn out to be a complete shock. The markets may test to find the bottom again after their earlier rebound."
The Hang Seng China Enterprises Index and Shanghai Composite have both fallen more than 20 percent from January highs, putting them among the worst performing stock indexes worldwide. They've been dogged by concerns over Beijing's deleveraging campaign, signs of slowing economic growth, a weakening yuan and the escalation of a trade dispute between China and the U.S.
The main drags on the Hang Seng China Enterprises Index on Tuesday included Industrial & Commercial Bank of China Ltd., China Construction Bank Corp. and Bank of China Ltd., which fell at least 1.1 percent, while PetroChina Co. and Cnooc Ltd. lost more than 2.5 percent.
Hong Kong's Hang Seng Index slid 1.3 percent to 28,182 points
The Shanghai Composite closed at 2,798 points
The yuan, which has weakened more than 4 percent against the dollar over the past month, rose 0.2 percent to 6.6785 per dollar
"The Hang Seng Index may reach 28,000 or even 27,500, while the Shanghai Composite may test 2,700," said Sam Chi Yung, a Hong Kong-based strategist with South China Financial Holdings Ltd. "The trade war will remain a great concern for China and Hong Kong."