China's Yuan to Weaken With No Set Line of Defense, Pimco Says
(Bloomberg) -- China will tolerate higher volatility in the yuan and a moderate weakening of the currency, according to Pacific Investment Management Co.
As long as the moves are driven by fundamental factors, the central bank is unlikely to defend the yuan at a particular level, according to Isaac Meng, an emerging market portfolio manager at Pimco in Hong Kong. Officials are more comfortable with swings in the currency and foreign funds have been boosting investment in onshore bonds, while domestic households already hold significant assets overseas, he wrote in a blog.
The yuan is Asia's worst performing currency since mid-June, sliding 4.4 percent as China's economy showed signs of slowing and friction with the U.S. worsened. Senior central bank officials said the currency would be kept stable and not used as a weapon in the trade dispute after it slipped past 6.7 per dollar earlier this month, raising speculation that authorities had drawn a line in the sand for the exchange rate at that level.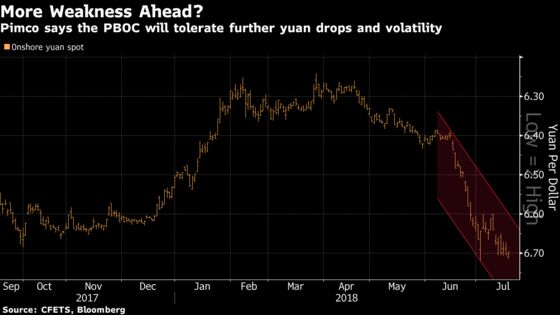 "The central bank has shown willingness to tolerate higher volatility and to let the currency act as a shock absorber -- as long as the moves are driven by fundamentals and there's no big spillover to financial stability," Meng wrote. "This likely reflects a perception of restored credibility in China's currency regime."
A potential compromise in the trade dispute with the U.S. would "almost certainly entail a sizable reduction" in China's trade surplus, which will weaken fundamentals and the exchange rate, Meng said. He added that a depreciating yuan will help offset U.S. tariffs, the first round of which will trim 10 to 20 basis points off Chinese GDP.
The onshore yuan rose 0.02 percent to 6.7021 per dollar as of 11:24 a.m. in Shanghai.