China's Yuan Poised for Longest Weekly Losing Streak Since 2015
(Bloomberg) -- China's yuan is headed for a seventh weekly drop, the longest slide since after a shock devaluation in 2015, stoking bets the authorities will tolerate more weakness as long as there's no sign of speculative short trades.
The onshore yuan has weakened 0.6 percent this week, taking its decline since early June to more than 6 percent. The currency traded at 6.8260 per dollar as of 5:12 p.m. Friday in Shanghai. The offshore yuan is also in line to drop for a seventh week, the first time that has happened in six years.
Chinese authorities have so far refrained from heavy intervention to stem the yuan's plunge, sparking speculation they prefer a weaker currency to blunt the impact of a trade war with the U.S. The yuan's slump on a trade-weighted basis will offset the drag on Chinese growth from the first two rounds of tariffs imposed by the U.S., according to Goldman Sachs Group Inc.
Despite the weakness in the spot market, traders have refrained from shorting the currency with derivatives. Guo Shuqing, the Communist Party chief at the People's Bank of China, warned on July 5 that investors betting against the yuan over the past three decades "eventually bore considerable losses."
Twelve-month forward points on the offshore yuan -- or the spread between the spot rate and the forwards outright -- have tumbled to the lowest since 2011, reflecting a lack of bearish trades even though the cost of shorting has become cheap. The three-month risk reversal, which indicates bearishness in the options market, is one-fourth of the level seen in 2015. The onshore currency's one-year swap points turned negative for the first time in more than four years.
Read: CNY Swap Points Turn Negative as Big Bank Shorts USD in Far Leg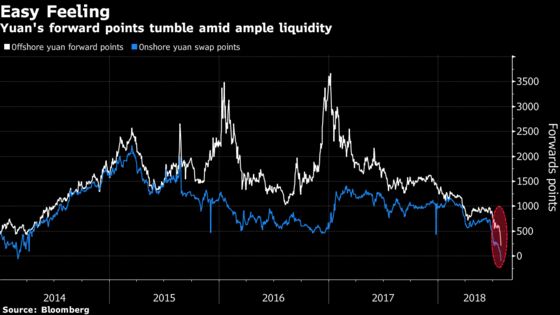 "There aren't many speculative short-yuan positions," says Tommy Ong, managing director for treasury and markets at DBS Hong Kong Ltd. "Nobody dares to intensely build short-trades, as everyone's worried that the PBOC would push borrowing costs higher and trigger a stampede of bears again. Traders were punished a few years ago, and they made very little money, if not losses, in those gambles."