China's Weak Holiday Spending Shows Impact of Covid Controls
China's virus restrictions have disrupted another holiday spending period, worsening the growth outlook for the world's second-largest economy, which was already facing a slump in consumption.
Travel over the three-day Mid-Autumn Festival holiday was at 87% of the level recorded during the same period in 2019, with people making 88.2 million trips, Ministry of Culture and Tourism data showed. Tourism revenue reached 79% of 2019's level, suggesting that consumers weren't confident to spend or were making cheaper trips.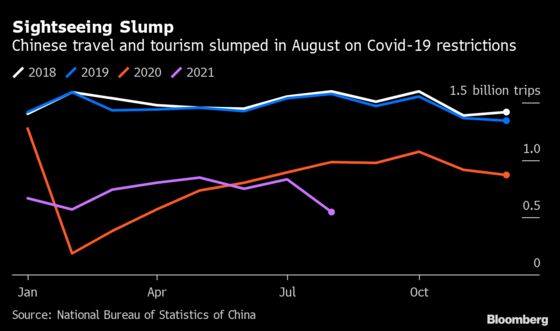 Demand for short-distance travel was higher this year than in 2019, as many local governments asked people not to cross provincial borders or go to areas classed as medium and high-risk for Covid-19, according a report released Tuesday by online travel agency Ctrip. Bookings for short-distance trips were 56% of all bookings during the holiday, the report said. 
Private consumption and spending on services has been the weak spot in China's recovery from the initial outbreak last year. Retail sales took longer to rebound than the manufacturing sector and has never recovered the growth levels achieved before 2020. 
Tourism and spending during this year's summer holidays were hampered by lockdowns and restrictions across the country to control a widespread outbreak that began in late July. Those measures quashed the infections, but retail sales growth suffered, slowing to 2.5% in August compared with a year earlier. 
The statistics bureau said the slowdown in consumption was due to short-term factors such as floods and virus outbreaks. However, the most recent cases in northeastern China and the outbreak in the southern province of Fujian could affect people's willingness to travel and spend during the upcoming October national holiday, which would usually be a good period of the industry. 
The data isn't comparable to 2020, as the Mid-Autumn Festival overlapped with the week-long national holiday last year.