China's Virus Flare-Up Delays Tianjin Meetings as Olympics Await
(Bloomberg) -- China postponed two political meetings in the port city that borders Beijing over its sudden Covid-19 outbreak, a move that's raising concern whether the Olympics and annual national legislative meetings can go ahead smoothly.
Tianjin city officials delayed two separate meetings of the Committee of the People's Congress of Tianjin due to the surge in Covid infections, according to a report by state broadcaster China Central Television. One of the gatherings was originally scheduled to take place on Jan. 16. The new dates of the two meetings have not yet been determined.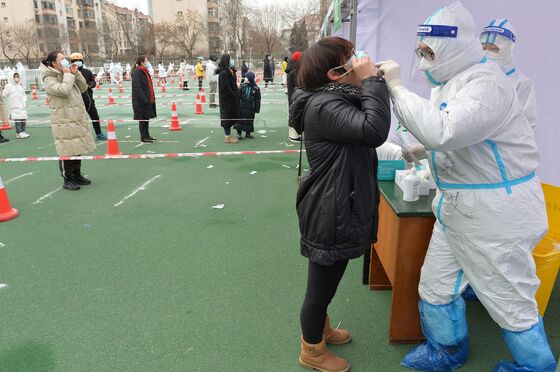 The delay of the meetings in Tianjin, located just 30 minutes away from Beijing via train, and also adjacent to Hebei province, which is hosting most of the snow sports during the Winter Olympics, calls into question how the Chinese capital will ensure the highly transmissible disease doesn't enter or disrupt the games. Tianjin reported 137 new cases by 2 p.m. Wednesday in the latest outbreak, forcing the local government to reduce the movement of residents in three districts and close dine-in services and entertainment facilities. 
The delay may impact the timing of China's "Two Sessions" -- the annual political summit in Beijing of the country's top legislators and their advisers -- which takes place following the provincial sessions and is currently scheduled for March. There is precedent: The National People's Congress was delayed to May in 2020 due to the coronavirus pandemic.
Locking down Beijing during the Winter Games, which start Feb. 4, is off the table for now, the Global Times reported, citing an organizing committee official.