China's View of Japan Improves, Though the Feeling's Not Mutual
(Bloomberg) -- Efforts by leaders to heal the rift between China and Japan over history are working, although improvement in how the countries' citizens view each other is largely one-sided.
An opinion poll of Asia's two largest economies published by Genron NPO on Thursday showed about 42 percent of Chinese respondents had a positive image of Japan, up from 5.2 percent in 2013. By contrast, 13 percent of Japanese said they had a positive view of China, compared with a low of 6.8 percent in 2014.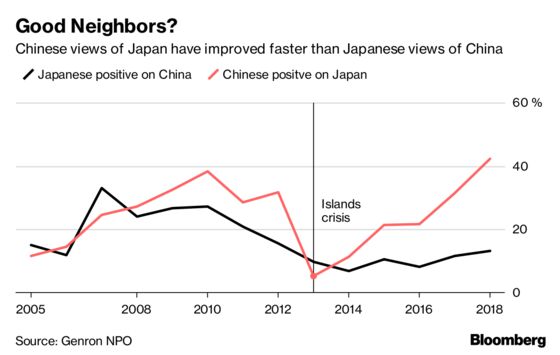 Japanese Prime Minister Shinzo Abe has said he inherited a relationship with China at its worst state since World War II when he took office in 2012, just months after Japan nationalized part of a chain of islets claimed by both countries. Since then, Abe has sought opportunities to meet with Chinese President Xi Jinping and appears set to be rewarded this month with his first one-on-one summit to Beijing.
In the annual poll, the percentage of respondents saying ties between China and Japan were poor fell below 50 percent in both countries for the first time since 2010. Chinese Premier Li Keqiang on Wednesday told attendees at a bilateral gathering in Beijing that the countries should make efforts to improve ties, the official Xinhua News Agency reported.
Even as Abe emphasizes the need for the countries to cooperate, Japan continues to show its concern about Chinese military expansion and activities in the South China Sea. Efforts at rapprochement have been overshadowed by growing tensions between China and Japan's only treaty ally, the U.S.
While Chinese respondents to the survey cited Japan's high standard of living, its well-mannered culture and its beautiful environment among reasons for their positive impression, they said Japan remains the most serious military threat to China -- ahead of the U.S.
Japanese respondents cited the dispute over the East China Sea islands known as the Senkaku in Japan and the Diaoyu in China as the biggest reason for their negative impression of China, followed by Beijing's "actions against international rules." But when it comes to their nation's biggest military threat, they said it was North Korea, by far.
Genron NPO surveyed 1,000 people in Japan and 1,548 people in China between Aug. 27 and Sept. 22.