China's Hot Stocks Turn Upside Down in Widest Swings Since 2016
(Bloomberg) -- Even for the wildest stocks in China, the moves in small caps are getting extreme.
Wednesday's 4.5 percent drop in the ChiNext index followed a 7.2 percent rally in the preceding two days. Average intraday swings this month are now the widest since early 2016. The index has swung at least 2 percent for nine straight days.
The question now for investors is whether to quit while ahead or stomach the growing volatility. With the gauge still up 38 percent since the end of January, there's plenty of profits left on the table. Some insiders are taking no chances -- a growing number of companies have announced plans to trim holdings this week, including investor favorite Wangsu Science & Technology Co. The stock is down 19 percent this week.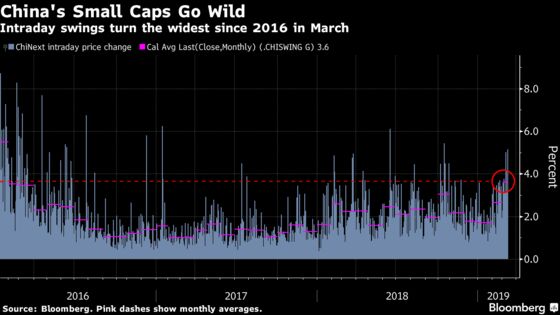 "Risks are rising as stocks reach relatively high levels," said Ken Chen, a Shanghai-based analyst with KGI Securities Co. "Upward momentum has weakened and investors are less willing to go long than before. Some retail investors are running for the exit as more listed firms are announcing shareholders' plans to cut stakes."
Another much-loved stock Wens Foodstuffs Group Co. was among the biggest decliners, sliding by the 10 percent daily limit, while Huabao Flavours & Fragrances Co. jumped by the maximum permitted after announcing a generous dividend -- prompting questions from the exchange.
The rally may still have further to run. Morgan Stanley says the bull market is far from being overheated, pointing to metrics including margin transactions, new investor registrations and turnover. Its year-end target for the CSI 300 remains at 4,300, implying the index could climb another 15 percent from Wednesday's close. The CSI 300, which has rallied 24 percent this year, dropped 0.8 percent, while the Shanghai Composite Index dropped 1.1 percent.
China Defense Stocks Jump as Xi Pushes to Meet Military Targets
ZTE Set for Biggest Drop This Year as Parent Plans to Cut Stake
China Maple Leaf Leads Education Stocks Down on Policy Worries
Ping An Gains 3.7% in Hong Kong as Analysts Praise Solid Results
What Analysts Are Saying About Equities: China Research Digest