China's Top Bank Cancels Sale of Dollar Bonds to U.S. Buyers
(Bloomberg) -- China's biggest lender pulled an offering of dollar bonds in the U.S. market on Wednesday, adding to concern that American investor demand for Chinese offerings is dwindling amid the trade war.
Industrial & Commercial Bank of China Ltd. had been marketing three-year and five-year floating-rate notes through its New York branch, then decided not to proceed with pricing, according to people familiar with the matter. A call to ICBC's press officer in Beijing went unanswered.
The move came on a day when four other Chinese issuers, including a junk-rated firm, successfully priced dollar notes in Asia. ICBC's securities were aimed at buyers in the U.S., where investor sentiment toward investment-grade credit has been shifting thanks to worries over a slowdown in growth amid Federal Reserve policy tightening. China's sovereign offering last month also saw diminished American demand demand as trade tensions escalated.
"The negative market sentiment towards Chinese entities outside of Asia -- especially in the U.S. -- would seem to continue for a while," said Judy Kwok-Cheung, director of fixed income research at Bank of Singapore. "A strong name with a high credit rating should still find liquidity in the market," she said.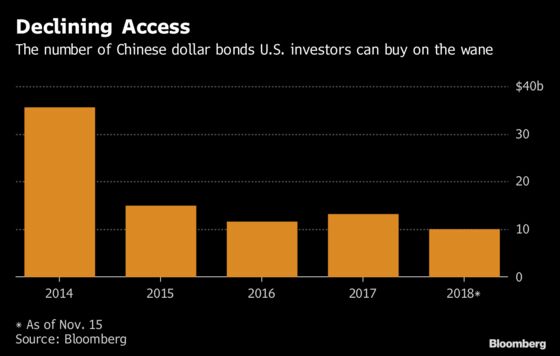 ICBC New York had announced an initial price guidance of around three-month Libor plus 100 basis points area for three-year floating-rate notes, and about 110 basis points for the five-year notes that were expected to price on Wednesday. The cancellation didn't have any significant impact on its existing bonds in the secondary market.
The Chinese bank's offering failed to cross the finish line despite the guidance on its five-year offering being in line with that of a lower-rated issuer. DowDuPont Inc., the U.S. chemical giant, sold $300 million worth of five-year floating rate notes at three-month Libor plus 111 basis points on Wednesday.