China's Surprise Bond Reprieve Raises Fears of Crunch in May
Fears of a selloff in China's sovereign bond market have proved wrong, with traders now bracing for the pressure to build through May.
Instead of surging higher this month, benchmark 10-year yields are comfortably below their half-year average and little changed from late March, thanks to a slowdown in debt issuance by municipal authorities.
Traders had been bracing for a seasonal increase in local bonds at a time when China's commercial banks -- the biggest buyers in the market -- typically funnel funds to clients to meet tax payments. Banks would then offload sovereign notes so they could snap up the riskier but more lucrative munis. That failed to happen in April, and there's now concern of a bigger liquidity crunch next month.
"The supply pressure will erupt eventually," said Xing Zhaopeng, a senior China strategist at Australia & New Zealand Banking Group Ltd. in Shanghai. "Happening later than expected means there will be more buildup," said Xing, who forecasts local government debt issuance and annual tax settlements will drain a combined 800 billion yuan ($124 billion) in May, resulting in liquidity falling 1.6 trillion yuan short of what will be needed.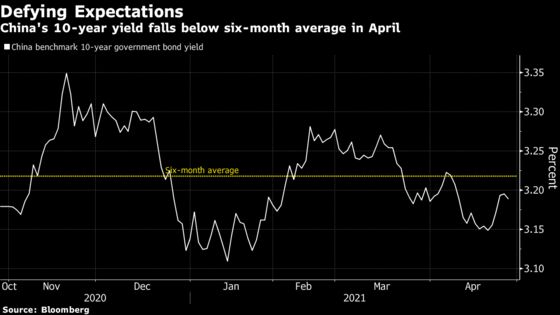 The reckoning didn't come in April because local authorities are still drawing on leftover funds from previous debt sales, analysts say. And with the central bank limiting cash injections into the economy, taking some heat out of the stock market, investors bought into money-market funds, adding to liquidity in the system.
The 10-year yield touched a near three-month low of 3.15% on April 21 and is set to end the month little changed around 3.18%. That compares with about 1.65% on Treasuries of the same maturity. Japanese 10-year government bonds yield little more than zero and German bunds are deep in negative territory.
Qi Sheng, an analyst at Founder Securities Co. in Beijing, believes a downtrend in Chinese yields now looks "more clear than ever."
"The closely-watched April tax period passed more smoothly than expected and didn't cause a shortage of funds," Qi said. "Economic fundamentals haven't changed, nor have the direction of central bank policy or credit risks."
Read: Carry Trades in China, Korea Rank Best in Low-Yield Covid World
Bond sales in China are closely scrutinized as investors attempt to gauge the pace of policy normalization in the world's second-biggest economy. Stock traders have interpreted recent moves by the People's Bank of China to roll over medium-term lending facilities as signs of tapering, while others point to larger-than-expected local government debt quota as indications that driving an economic recovery remains a priority for Beijing.
Others are concerned that pressure points will surface before long.
While regional governments have so far sold fewer bonds than in previous years, the quota for special debt issuance remains at a whopping 3.65 trillion yuan. Though that's lower than what was permitted in 2020, it exceeds the 3.5 trillion yuan expected by economists surveyed.
Global funds also trimmed holdings of Chinese government debt for the first time in two years in March.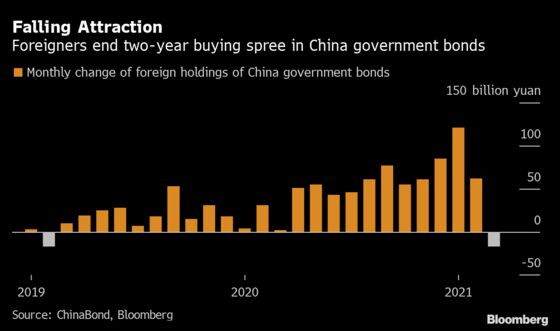 "The supply pressure on government bonds didn't appear in April as fiscal expenditure was very seasonal because local governments were able to use leftover funds," said Sun Binbin, chief fixed-income analyst at Tianfeng Securities Co. in Shanghai. Liquidity in the banking system could be 850 billion yuan short of what is needed in May as issuance accelerates again, said Sun.
And although local authorities sold only 222.7 billion yuan of special bonds for infrastructure spending between January and April -- five times less than in 2020 -- the pace did pick up this month.
Funding costs for non-bank financial institutions were also lower than usual in April, allowing them to purchase more negotiable certificates of deposit from banks, said Liu Yu, an analyst at Guangfa Securities. This is set to change in May, crimping the amount of funds banks have at their disposal, she wrote this week.
Meanwhile, finance ministry official Xu Jinghua said the issuance window this year for local government special bonds will be relatively narrow, as the new quota hasn't been fully allocated, and that the securities should be sold at a balanced pace, Chinabond magazine reported.