China Share Buyback Boom Aims to Help Sliding Equity Market
(Bloomberg) -- More Chinese companies are pledging to buy back their shares as authorities seek to stem a $2 trillion rout in the equity market.
At least 109 firms have announced repurchase plans or bought back shares this year, according to data compiled by Bloomberg. Home appliances maker Midea Group Co. is one of the latest, with plans to spend up to 4 billion yuan ($600 million) buying its shares after they slid 19 percent from January to early July.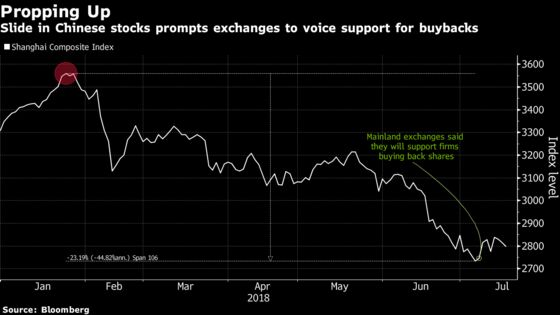 Buybacks can signal company executives believe shares are undervalued, or they can be used for purposes such as employee stock incentive plans. In China, they may also reflect the state encouraging corporations to show support for the market during times of turmoil. In early July, shortly after Chinese equities entered bear market territory, the Shanghai and Shenzhen stock exchanges said they supported listed companies buying back shares.
Ronald Wan, chief executive officer of Partners Capital International Ltd., said this year's buybacks may be a result of regulatory guidance. "Repurchases might limit downside in the companies' shares and support the market, though how much it can help will depend on broader factors, including liquidity and macro fundamentals," he said.
There were similar efforts when a stock bubble burst in 2015, although some buybacks didn't materialize. An example is Haitong Securities Co., which sought to repurchase 21.6 billion yuan of its Shanghai and Hong Kong-listed shares in July 2015. The company abandoned the idea five months later, citing potential risks to its operations, liquidity and credit ratings.
The current wave of buybacks, as well as pledges by shareholders to boost stakes in listed firms, may indicate that the market is at a trough, China International Capital Corp. analysts Hanfeng Wang and Changjie Zhou wrote in a July 9 note. The Shanghai Composite has tumbled more than 20 percent since a Jan. 24 high. Other indexes on the mainland and in Hong Kong have also fallen, plagued by a trade dispute with the U.S. and Beijing's deleveraging campaign.
There are some signs that mainland equities have found a floor. The Shanghai gauge twice managed to notch up 2 percent-plus moves last week, the first time it's done that since October 2015. It also halted a seven-week losing streak, its longest in more than six years. However, the index fell for a fourth-straight session on Wednesday, retreating 0.4 percent.
Tianfeng Securities Co. said there's been an increasing number of buybacks since May as companies tried to stabilize shares as the market fell. "Despite history suggesting that buybacks won't have an instantaneous effect on shares, the unusual scale of repurchases recently should be able to appease market sentiment," it said in a note on Tuesday.
For Gan Chuanqi, fund manager with ZhongRong Fund Management Co., the impact of buybacks may be minor.
"Repurchases are an indication of confidence," Gan said. "They send a strong positive signal to investors for the individual stocks involved, but the effects on the broad market will likely be limited given the actual purchase value would be small compared with the daily turnover."
While buybacks can be positive for stocks, companies may be better off investing money elsewhere, according to Wan of Partners Capital. "Given the liquidity strain and tight credit on the mainland, all funds are precious," Wan said. "Companies may need to ponder whether they want to use money on buybacks or to support their businesses."