China's Rediscovered Risk Appetite Helps the Central Bank, Too
(Bloomberg) -- The return of risk appetite in China is helping fix a problem that the central bank has been facing until now: the difficulty of getting its monetary stimulus out into the real economy.
Thanks to the delay on further tariff increases and the various stimulus measures over the past year, risk assets are returning to popularity with Chinese investors. Equities are now considered a better investment than bonds, and corporate bonds are preferred over those from the government and policy banks, according to analysts from China Merchants Securities and Industrial Securities Co.
The three main financing channels have seen improvement - the Shanghai Composite Index is up almost 20 percent from last year's low, the yield on 3-year corporate bonds is dropping faster than that of sovereign debt with the same maturity, and banks extended record loans to companies last month. While there's probably some seasonal factors in the lending jump, the shift may provide relief to the People's Bank of China, which is supplying money to financial institutions in the hope it will be transmitted to the real economy.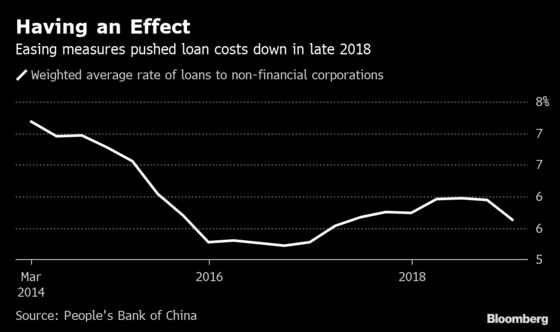 Cash-strapped private and small companies seem to be benefiting. Bill financing, a type of funding often used by those firms, had the biggest single-month jump in a decade in January. While the quick increase has triggered concerns on arbitrage trading, it also met the financing demand of the real economy, the PBOC said.
The initial signs that previous pro-growth policies are taking an effect have prompted some to call a bottoming-out. China International Capital Corp.'s chief economist Liang Hong said growth may have hit such a point late last year, and Oxford Economics Ltd said the economy will likely stabilize around the second quarter.
"The change in market sentiment should be able to improve policy transmission. Banks hadn't dared make loans before, partly because they were concerned about the economic outlook and market valuations, but now that sentiment has improved," said Xia Le, Hong Kong-based chief Asia economist at Banco Bilbao Vizcaya Argentaria SA.
Still, it is uncertain how long the recovery will continue at this speed -- policy makers are still cautious about excessive liquidity and releveraging in capital markets.
"Growth deceleration could continue in the months ahead" as property investment and exports slow to single-digit growth, Larry Hu, head of China Economics at Macquarie Securities Ltd. in Hong Kong, wrote in a note.