China's Property Crackdown Helps Reduce Emissions -- For Now
(Bloomberg) -- China's commitment to cutting carbon emissions will largely depend on how far Beijing is willing to go in reducing the economy's reliance on housing construction.
The economy slowed sharply over the past three months partly due to a state-directed squeeze on the finances of real estate companies, which slowed construction. The pace of growth in its carbon emissions -- the largest of any country -- dropped even faster, according to Carbon Monitor, a real-time tracking service. Emissions from the industrial sector saw their first year-on-year decline since the country's coronavirus shutdowns in early 2020.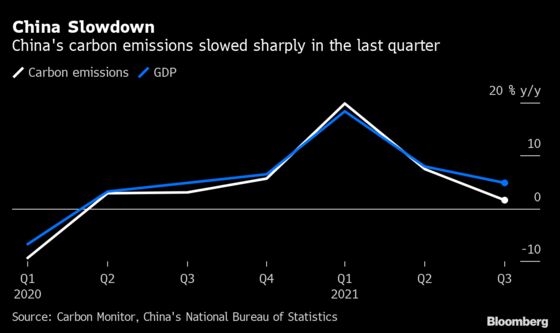 Electricity shortages, which forced energy-intensive factories making products such as steel, cement, aluminum and chemicals to cut production, were the immediate cause of the emissions slowdown, according to Li Ruiyao, a Carbon Monitor researcher based in Beijing. 
But over the longer term, a prolonged decline in real estate construction would be a more powerful force reducing industrial output, and therefore emissions. Housing construction fell in the last two months and sales continue to tumble, suggesting that weaker industrial output could outlast electricity shortages.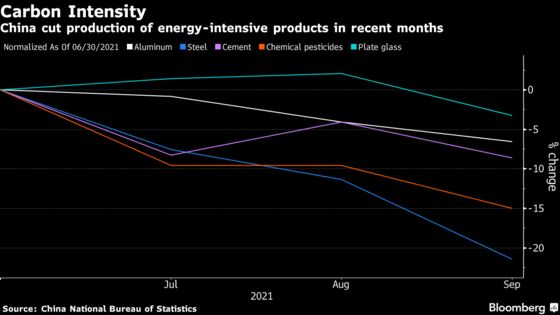 Most of China's emissions are generated by electricity demand from China's vast manufacturing sector, a lot of which is producing for the domestic building industry, and released directly during the production of building materials like metals and cement. Real estate is the final source of demand for 42% of Chinese steel production, according to Bloomberg Intelligence. 
Adding in other materials such as cement, brick and linoleum, and building construction emitted 1.8 billion metric tons of carbon in 2018, according to a recent study, close to 20% of the country's total that year. The only two recent years in which emissions fell in China were 2015 and 2016 -- when the country was dealing with its last large property slowdown, with official data showing the number of homes under construction plateauing.
"The property sector is very important. You'd see a lot more years with emissions growth being flat or down if you didn't have growth in the property sector," said Jan Ivar Korsbakken, who models China's emissions at the Center for International Climate and Environmental Research (CICERO) in Norway. 
What makes China's current housing slowdown different from previous ones is that it's largely a result of deliberate policy: Beijing told banks to cut mortgage issuance and financing to developers, making them less able to build. Government-linked economists have said that this could presage a policy shift by Beijing to cut the economy's reliance on real estate, as part of a broader push by President Xi Jinping to shift the country's growth model. 
In the past, Beijing has stepped in when a housing slowdown threatens economic growth. This time, economists believe Beijing will be more willing to tolerate slower growth in pursuit of other goals such as financial stability.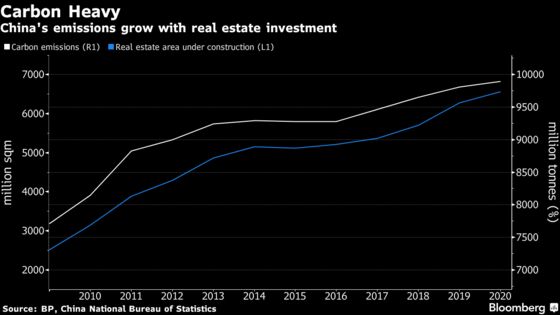 How far Beijing goes with that effort has huge consequences for emissions. While economists mostly agree that the period of rapid growth in China's housing production has ended, they have differing views on when and how fast that activity will decline. While Beijing has pledged to add to its urban population at a rate of about 10 million per year over the next five years, it hasn't given targets for housing construction. 
On the bearish side, Huang Qifan, vice chairman of China Center for International Economic Exchanges (CCIEE), a think tank with strong ties to the central government, predicts that real-estate construction will fall at an annual rate of about 3.5% over the next 15 years. The urbanization rate will reach its "ceiling" over that period, he added in a recent speech.
On the other hand, Ren Zeping, chief economist at Soochow Securities, estimates that new housing construction will remain stable over the next decade, with the country adding 1.1-1.35 billion square meters of new housing annually until 2030, due to continued rapid urbanization and demand for larger apartments. Economists at Gavekal Dragonomics expect demand to remain strong over the next decade as the country adds 169 million urban residents by 2030.
To be sure, if the sector can become less "carbon intensive" it's possible for real-estate construction to rise strongly while emissions fall. A rapid increase in the share of renewable energy in China's electricity production or technological breakthroughs like carbon capture could see more houses built with reduced emissions. 
But even as it makes huge investments in renewables, Beijing has said it will still rely on fossil fuels for the majority of its energy needs until at least 2030, while progress on technologies like carbon capture has been slow, meaning real estate is likely to remain a key emissions driver in the medium-term. 
Other sectors matter as well: China's exports have accounted for about 10% of its emissions in recent years and transport creates around the same amount. But the huge size of the property sector means uncertainties about the pace of construction over the next decade could explain why Beijing has been reluctant to specify a year before 2030 when its emissions will peak.
"There certainly is uncertainty around how quickly China can make a clear and consistent change in its growth model," added Korsbakken.