China Credit Hedging Tool Seen Benefiting Stronger Firms
(Bloomberg) -- China revived a credit risk hedging tool late last year to help weaker companies sell bonds, but the biggest beneficiaries so far have been the stronger firms.
Since October, more than 60 credit risk mitigation warrants, which insure bondholders against defaults of the underlying debt in a way similar to credit default swaps, have been sold on private sector debt. Of that, 64 percent were on obligations sold by companies with stronger ratings of AA+ and above, according to Bloomberg-compiled data.
That's bad news for China's efforts to aid non-state companies in the wake of record debt delinquencies. Underwriters that are mostly banks and brokerages are fearful of being exposed to the credit risks transferred to their balance sheets if the underlying borrowers fail, according to Lianxun Securities Co., which also cited high capital charges on lenders issuing such instruments as another concern.
Read: Default Wave Puts More Than $26b Chinese Bonds at Repayment Risk
Several of the warrants have been sold repeatedly on the same debt issuers, which analysts say signals financial institutions' reluctance to expand their hedging coverage to a wider range of borrowers.
The companies that have secured multiple credit hedging tools for new sales of notes include cement producer Hongshi Group Co. in the Zhejiang province, apparel maker Hongdou Group Co. and cable manufacturer and distributor Hengtong Group Co. in Jiangsu. All of them were rated AA+.
Underwriters' resistance to boost CRMW coverage was partially due to concern on deterioration of creditworthiness of the underlying borrowers. One recent example is Yichang Renfu Pharmaceutical Co. Two financial institutions sold a warrant on its bond in December and the firm recently said it expects a net loss of as much as 2.7 billion yuan for 2018.
Beijing Orient Landscape & Environment Co., one of whose bonds is covered by a CRMW, delayed an interest payment on a separate note by one day, the company said, citing an "operational mistake" by its staff.
So far, only about 40 debt issuers have benefited from such tools, according to Bloomberg-compiled data.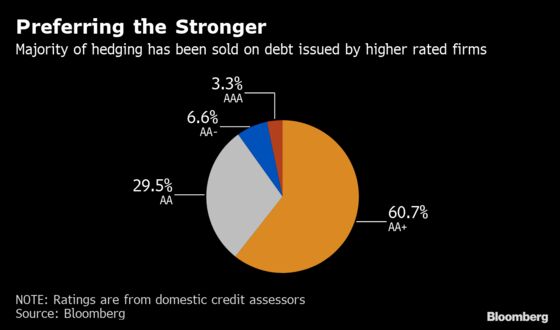 Here's what analysts say about the effectiveness of CRMWs:
Yu Lu, analyst at China Chengxin International Credit Rating Co.
So far, CRMWs have mainly targeted stronger private firms, and most issuers of the hedging tools are underwriters of the underlying debt as they have more incentives to boost the demand for bond sales.
The central bank's policy to spur bond issuance by private firms will only benefit those with competitive technologies. But firms suffering from temporary financial trouble and those that are on the edge of default will not get the support.
Lv Pin, fixed-income analyst at China Securities Co.
It is hard for CRMW issuance volume to rise significantly from here because even with hedging, investors want to avoid borrowers with financial reporting issues after a record year of defaults in 2018.