China's Most-Indebted Developer Has a Risky Shadow Loan Habit
(Bloomberg) -- China Evergrande Group, the country's most indebted developer, has a lot more work to do as it tries to win over investors with plans to reduce leverage and diversify its business.
One key concern as Evergrande's stock slides toward a 15-month low and its dollar bonds tumble: the company's continued reliance on China's shadow banking system.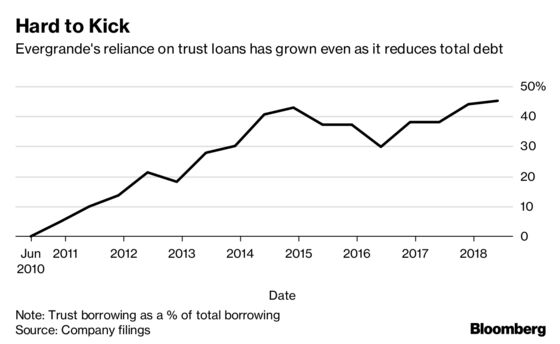 The Guangzhou-based developer, controlled by billionaire Hui Ka Yan, cut its 671 billion yuan ($97 billion) debt load by 8.4 percent in the first half, mostly by paying back bank loans. But the company has had less success reducing its exposure to high-cost trust financing: it accounted for about 45 percent of Evergrande's total borrowing at the end of June, the largest portion since at least 2010.
Most of Evergrande's publicly traded peers are much less reliant on such funding. Longfor Group Holdings Ltd. and China Resources Land Ltd. say they don't use trusts, while China Vanke Co. gets about 18 percent of its financing from sources other than banks and bonds. Only Sunac China Holdings Ltd. appears to have a funding profile similar to Evergrande's, with 46 percent of its debt coming from non-bank and non-bond sources.
Evergrande, which is reportedly in talks to raise $1.5 billion this month by offering its Hong Kong office tower as collateral, didn't respond to emails and phone calls seeking comment.
With an estimated 40 percent of its debt due by mid-2019, the company faces higher refinancing costs as China's housing market shows signs of topping out and policy makers tighten restrictions on the nation's shadow banking system. At the same time, confidence in Evergrande's diversification strategy has taken a hit after it become embroiled in a spat with electric-vehicle startup Faraday Future over a $2 billion deal. Faraday said on Oct. 23 that it was planning layoffs.
"Evergrande's leverage is improving, but it has debt to refinance and exposure to the shadow banking sector," said Kristy Hung, an analyst at Bloomberg Intelligence in Hong Kong. "That's something to be worried about."