China's Yuan, Shares Fall as Trade Row Overshadows Policy Shift
(Bloomberg) -- The yuan and mainland equities declined Monday, snuffing out earlier gains as concern over trade friction with the U.S. overshadowed a move by China late Friday to support its currency.
The onshore yuan slipped 0.17 percent to 6.8402 per dollar as of 4:02 p.m., while the Shanghai Composite Index closed down 1.3 percent at its lowest since February 2016. The ChiNext gauge of small caps and tech stocks fared even worse, tumbling 2.8 percent -- its worst day in seven weeks -- to its lowest in nearly four years. The Hang Seng Index, which fell every day last week, held a 0.6 percent gain.
"The market is still worried about the outlook in the trade war, so people are very cautious," said Qian Qimin, an analyst with Shenwan Hongyuan Group Co. "They are dumping smaller caps first as their valuations are higher."
Shanghai-based Qian said the next key level to watch for the Shanghai Composite is 2,691, an intraday low it hit on July 6. If the index falls below that, it would hurt confidence and the selloff could escalate, he said. The benchmark closed at 2,705 Monday, down 24 percent from its January high.
The People's Bank of China on Friday evening said it was imposing a reserve requirement of 20 percent on trading of some foreign-exchange forward contracts, effectively making it more expensive to short the yuan. The central bank used the same approach after its 2015 devaluation.
"The return of the 20 percent reserve requirement rule is a clear indication from Chinese authorities that recent pace of weakening in the yuan has been excessive," United Overseas Bank Ltd. strategists including Heng Koon How wrote in a note Monday. They said further yuan weakness is likely after temporary near-term stability passes, and maintained their 6.95 per dollar year-end forecast and 7.1 for mid-2019.
Various existing negative drivers against the yuan remain in place and have mostly intensified," the note said. "These range from further anticipated U.S. Fed rate hikes, deteriorating U.S.-China trade relations, lower China yield curve and weakness in the yuan's trade-weighted basket."
In an article Monday, the Economic Observer cited PBOC adviser Sheng Songcheng as saying the yuan won't fall to 7 per dollar, which he called a psychological barrier. The article also said yuan depreciation would lead to capital outflow pressure. The PBOC set the yuan's daily reference rate at 6.8513, the weakest since May last year, though in line with analyst expectations.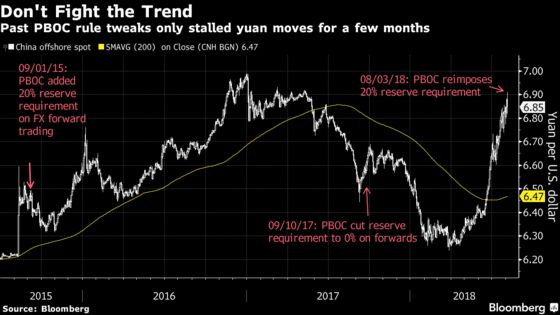 The PBOC said it will impose a reserve requirement of 20 percent on some trading of foreign-exchange forward contracts. That will effectively make it more expensive to short the yuan, which fell on Friday to the lowest since May 2017
And about an hour later, officials released a list of $60 billion in U.S. goods that Beijing intends to hit with tariffs, in retaliation for Trump's plan to impose duties on $200 billion in Chinese imports.
"The yuan kept falling when China did this last time in 2015, so I don't think the PBOC's move will significantly change the market tone," Hao Hong, chief strategist at Bocom International Holdings Co., said by phone on the weekend. "The trade war is nowhere near its end and China's economy is slowing down, so why would the trend reverse?"
The Ministry of Finance said that duties ranging from 5 percent to 25 percent will be levied on more than 5,000 categories of American imports if the U.S. delivers its proposed taxes on another $200 billion of Chinese goods. The list targets everything from planes and computers to wigs and textiles, with the highest tariff applying to more than 2,400 products such as meat, wheat, wine and liquefied natural gas.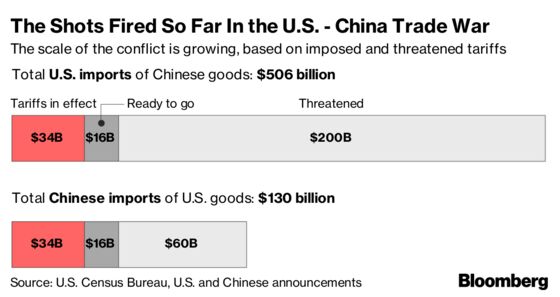 "The news headlines from Friday will have some negative impact on share market sentiment," said Dai Ming, Shanghai-based fund manager with Hengsheng Asset Management Co., who added that he doesn't expect Chinese equities to recover until there's evidence that the trade dispute is being resolved. "The stock market isn't the government's priority."
China's stock woes have caught the attention of U.S. President Donald Trump, who tweeted about the market's underperformance versus U.S. shares on Saturday and told a rally in Ohio that the declines are weakening that nation's bargaining power in the trade war. And White House economic adviser Larry Kudlow suggested Friday that China is letting its currency fall to offset losses from the trade war, though he added that the decline is partly due to weak economic fundamentals.
Eight straight weeks of losses brought the yuan close to 7 per dollar, a level it hasn't reached in more than a decade. Analysts had identified that as a key milestone where officials may seek to arrest declines, to counteract the mounting risk of capital outflows. China burned through foreign reserves propping up its currency after the devaluation almost three years ago spurred a rush to take money out of the country.
The levy on forwards is aimed at preventing macro financial risks as the foreign-exchange market shows signs of volatility amid recent trade frictions, and shouldn't be interpreted as a capital control, according to the PBOC.
Late Monday afternoon, China reported a current account surplus of $5.8 billion for the second quarter, following a deficit of $34.1 billion in the first three months of the year
An update on China's foreign-exchange reserves for July is due Tuesday, with analysts expecting a slight decline
China trade figures for July are scheduled for Wednesday.