China's Latest Carbon Plan Would Top Even President Xi's Targets
(Bloomberg) -- China continues to ratchet-up its carbon goals with the promise of a larger slice of power generation devoted to clean energy.
The National Energy Administration has circulated a 10-year renewables proposal that's eye-catching on two fronts, according to BloombergNEF.
The targets, which would require wind, solar and biomass to deliver 25.9% of national power sales or consumption in 2030, are more ambitious than President Xi's last public pronouncement on the subject two months ago; and they set much longer-term guidance than has been typical for the industry.
It means some 1,580 gigawatts of cumulative capacity will be needed to meet the target, a third higher than Xi's pledge, BNEF said.
Elsewhere, the rapid ascent in Chinese metals prices has left the market looking a little frothy. Shanghai copper snapped nine days of gains and with an RSI that's solidly above 80 and end-users chafing at higher costs, the contract could be due for a pullback. And aluminum trading near four-year highs can only incentivize ever more production from China's smelters, which at some point will drag on prices, according to Capital Economics.
Today's agenda includes the first media briefing from China's new commerce minister, Wang Wentao. Commodities topics that Weng may want to comment on include the ongoing trade freeze with Australia and Beijing's possible ban on the export of rare earths refining technology.
(All times Beijing unless noted otherwise.)
China commerce minister's briefing, 15:00
EARNINGS: HKEX
China's farm ministry is touting a complete recovery in the nation's hog herd from the ravages of African swine fever by the middle of the year. But fresh outbreaks of the virus and other lethal pig diseases could pose risks to that outlook and keep pork prices stronger for longer.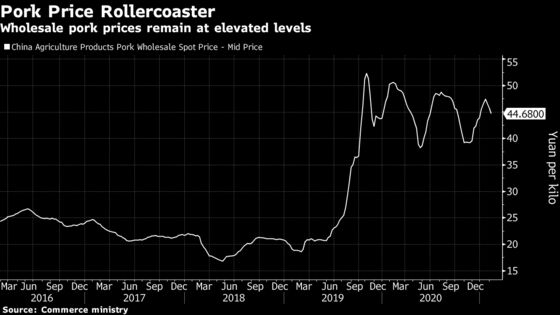 | Markets at Midday | |
| --- | --- |
| Copper -0.1% in Shanghai | Crude oil -2.6% in Shanghai |
| Iron ore +1.1% in Dalian | Steel rebar +0.9% in Shanghai |
| Thermal coal +0.2% in Zhengzhou | Coking coal +1% in Dalian |
| Live hogs -0.3% in Dalian | Corn +0.1% in Dalian |
| Soybeans +0.7% in Dalian | Rubber -0.9% in Shanghai |
The Chinese Love Big Food Even More Than Big Tech: Shuli Ren
Local Regulator Urges Jizhong Energy, Banks to Boost Cooperation
China's Tangshan Imposes Steel Output Curbs on Air Pollution
USDA weekly crop export sales, 8:30 Washington
EARNINGS: Vale
Bloomberg China economic survey for February, 10:00
China weekly iron ore port stockpiles
Shanghai exchange weekly commodities inventory, 15:30
China official PMIs for February, 15:00