China's Industrial Firms 2020 Profits Recover on Strong Rebound
(Bloomberg) -- Chinese industrial firms had a strong finish to 2020, with a recovery in economic growth to pre-pandemic levels and a jump in fourth quarter profits pushing them into the black last year.
Profits rose 4.1% to 6.5 trillion yuan ($1 trillion) last year compared with a decline in 2019, helped by a 20.1% surge in December from a year earlier, the National Bureau of Statistics said Wednesday.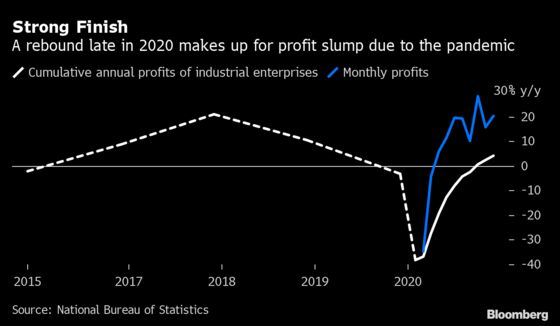 The rise in December was the seventh straight month of double digit increases. For the full year, profits at state-owned firms fell 2.9%, while rising 3.1% at private companies.
What Bloomberg Economics Says...
The sharp increase in December profits was "driven by an acceleration in production, strong exports, milder deflation in producer prices and a low year-earlier base."

The improvement "should bolster the industrial sector's capacity to retain workers and invest -- helping create a favorable backdrop for the People's Bank of China to taper stimulus."

-- David Qu, China economist

For the full report, see here
The steady improvement during 2020 was due to effective control of the virus, large-scale pandemic-relief measures including cuts to taxes and fees, as well as better market demand, Zhu Hong, an economist from the bureau, said in a statement accompanying the data release.
"But at the same time, industrial enterprises are still facing problems such as rapid growth of accounts receivable, increased inventory and greater pressure on cash flow," Zhu wrote. In 2021, China should maintain the continuity, stability and sustainability of macroeconomic policies, and continue to consolidate the stable recovery of the industrial economy, according to Zhu.