China's Hottest Broker IPO Shows Rout Can't Kill Speculation
(Bloomberg) -- A 300 percent rally by a brokerage stock in the middle of a bear market may go against common sense, but Tianfeng Securities Co. has done just that with the help of speculative Chinese traders.
The Wuhan-based company soared 328 percent in the 13 trading sessions following its initial public offering, on track for the strongest first-month performance for any Chinese brokerage, according to data compiled by Bloomberg. The Shanghai Composite Index rose 7 percent over the same period, but remains down about 25 percent from its January high.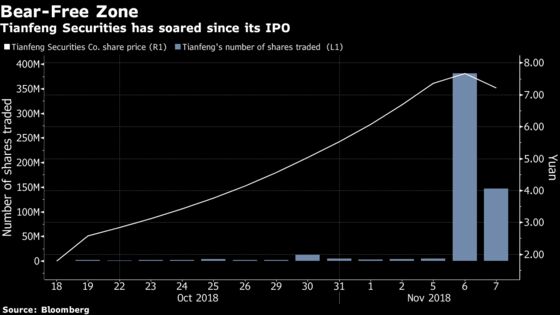 "Speculators are still chasing new shares, especially those with low per-share prices," said Lv Changshun, a fund manager at Beijing Dajun Zhimeng Investment Management Co. Tianfeng sold shares at 1.79 yuan apiece in September, the lowest among A-share IPOs in the last 12 months, and the stock soared 44 percent on the first day of trading Oct. 19.
New stocks with low unit prices often attract many Chinese investors because they look cheap to them, Lv said. In the last three years, the five Chinese firms that sold shares below 2 yuan apiece surged on average 644 percent in their first month of trading, more than double the average return of all 782 IPOs, data compiled by Bloomberg show.
Traders have taken an interest in Tianfeng and volume has begun to spike. The value of shares traded Tuesday jumped to 2.99 billion yuan ($430 million), exceeding that of China's largest brokerage Citic Securities Co., whose market capitalization is more than five times Tianfeng's. Tuesday was the first session that Tianfeng failed to surge by the daily limit on a closing basis, a cap that typically greatly reduces trading.
Tianfeng, which priced its share offer at 22.9 times 2017 earnings, is now trading at a multiple above 90, based on figures from its listing prospectus. Citic Securities A-shares are trading just under 20 times trailing earnings, according to data compiled by Bloomberg.
A rally in the brokerage sector, which started the day Tianfeng went public, also helped boost its performance, according to Lv. "When the water level rises, ducks can swim higher," he said.
Tianfeng was down 5.6 percent as the midday trading break Wednesday in Shanghai.