China's Growth Forecasts Cut as Property, Power Cuts Take Toll
Economists have again lowered their economic growth forecasts for China over the coming year amid power shortages and a worsening property market downturn, a Bloomberg survey shows.
Gross domestic product will likely expand 8.1% in 2021 and 5.3% next year, according to the median estimate in the latest quarterly survey by Bloomberg. That's down from a previous projection of 8.4% and 5.5% respectively. Fourth-quarter GDP growth forecasts were slashed by nearly 1 percentage point to 3.5%. 
SURVEY REPORT: China Economic Forecasts in Oct. 2021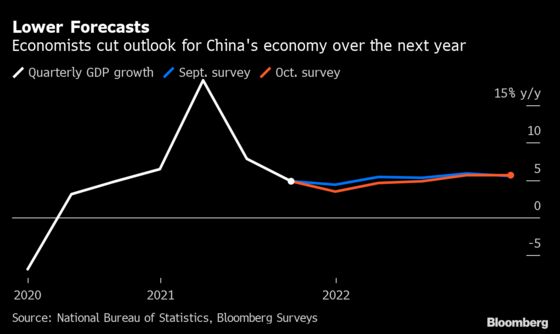 The economy slowed sharply in the third quarter, with high frequency indicators for October showing a further downturn. A debt crisis at China Evergrande Group is weighing on the property market, while coal supply shortages and surging electricity demand has led to power shortages, curbing production in the world's second-largest economy. 
"We have concerns China's real estate sector is slowing more rapidly and will contribute to slower growth than we originally anticipated," said Brendan McKenna, a currency strategist at Wells Fargo & Co.
Other major points in the survey:
Inflation will reach 1% in 2021 and 2.2% in 2022, lower than previous projections
Forecasts for factory-gate inflation were raised to 7.6% in 2021 and 3.7% in 2022
Industrial production will likely come in at 3.9% growth in the fourth quarter, 70 basis points lower than previously projected, while retail sales are expected to increase 4.6% from 6% previously
Economists expect trade to continue to post strong growth, with forecasts for both exports and imports for the full year upgraded by at least 4 percentage points