Wild Day in China Dollar Bonds Sees Record Drops, One Recovery
(Bloomberg) -- Dollar bonds of two Chinese state-owned conglomerates linked to top universities plunged on Friday amid concern about their finances, before confirmation that one of them would receive funding help from Credit Suisse Group AG, helping its debt recover from the day's low.
Tsinghua Unigroup Co.'s $750m bond due 2023 sank as low as 74.7 cents on the dollar before bouncing back to the day's high of 84.6 cents at 3:23 pm in Hong Kong, according to Bloomberg-compiled prices. Credit Suisse has underwritten the extension of two of its bank loans, according to people familiar with the matter. Peking University Founder Group's 2022 dollar note fell 4.5 cents to a record low of 63.2 cents on Friday.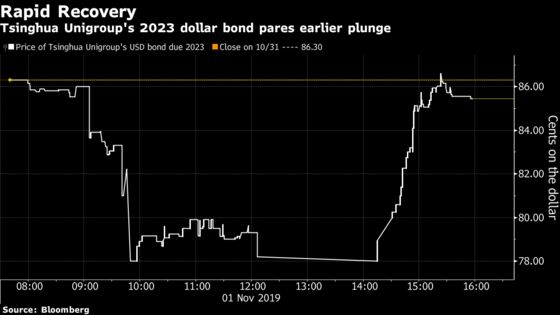 The initial drop in prices for both Tsinghua's and Founder's bonds showed unease among investors about the risks of Chinese conglomerates running into refinancing difficulties, even when supported by the state. Tsinghua Unigroup, part of China's plan to build a world-class semiconductor industry, has received billions in funds from government-backed investors. Founder runs medical, Internet and commodities-trading businesses, as well as a brokerage.
Tsinghua's executives tried to assuage investor concerns about its finances on a call on Friday. They said the company may consider buying back its dollar bonds and that the firm has more than 17 billion yuan ($2.4 billion) of cash in the offshore market. It also said it has credit lines of 250 billion yuan, of which 140 billion yuan has been used.
Tim Tu, Credit Suisse's managing director and head of structuring, North Asia, APAC financing group, said in the call that the bank expects to complete an 18-month extension of two of Tsinghua's loans by end-November. He expects to get the National Development and Reform Commission's approval for Tsinghua's loan extension by year-end.
Tsinghua had mandated Credit Suisse to arrange the amendment and extension of some of its loans. Redd Intelligence reported earlier that Credit Suisse provided an underwriting commitment for the extension of two of Tsinghua's bank loans. Calls to Tsinghua's and Founder's securities information disclosure departments went unanswered.
Analysts said that while investors are jittery about borrowers with sprawling businesses, Tsinghua Unigroup has a key role to play in helping China fulfill its technological ambitions. The company's controlling shareholder is the Ministry of Education, according to a bond prospectus distributed in June. Xi Jinping and his predecessor Hu Jintao are among Chinese leaders to study at Tsinghua University.
Founder's dollar bonds have been declining for months, pushing secondary yields above 15 percent and raising concern among investors. Founder has posted "big" losses in the past three years as the company's core business in the IT sector faces fierce competition and its pharmaceutical business also has low profitability, China Lianhe Credit Rating Co. said in a report in June.
Adding to the uncertainty, Peking University this year launched a lawsuit against other shareholders in the group, alleging stake sales in 2003 are invalid. Click here to read more.
Investors holding 700 million yuan of an 800 million yuan Founder bond exercised a put option allowing them to demand their money back in December, according to a document dated this week and seen by Bloomberg. The company plans to resell the securities, according to the document.
"University-owned corporations generally don't have a business operation as robust as those of big state-owned enterprises," said Shen Chen, a partner at Shanghai Maoliang Investment Management LLP. "They have diverse businesses often without a focus."