China FX Reserves Decline Due to Strong Dollar and Outflows
(Bloomberg) -- China's foreign currency holdings shrank again in October amid a rising dollar combined with signs of some capital outflows.
Reserves fell $33.9 billion to $3.053 trillion last month, the People's Bank of China said Wednesday. That was lower than the median estimate of $3.059 trillion in Bloomberg's survey of economists.
The decline came amid rising signs that companies and people are finding ways to move money out of the country, despite tight capital controls. The reserves stockpile, still the world's largest, has fallen for three straight months, and banks sold more foreign currency to their clients in September.
"The declines in reserves suggest there's moderate capital outflows, which I don't think will turn into massive fund flight because China has pretty much blocked all the channels that onshore investors can use to bring money offshore," said Nathan Chow, a senior economist at DBS Group Holdings Ltd. in Hong Kong.
"The PBOC will likely allow the yuan to weaken to 7 per dollar by year-end, while carefully managing the pace of the depreciation along the way," he said. "We won't likely see significant outflows, as long as there isn't intense panic in the market."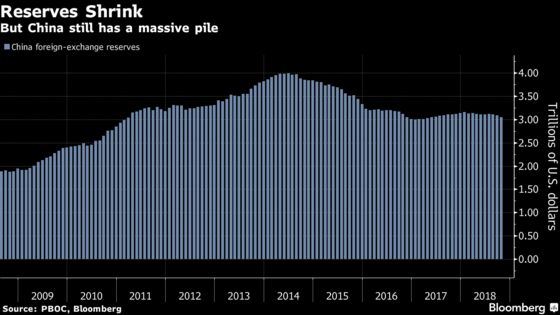 The yuan weakened more than 1.5 percent against the dollar in October. The Bloomberg Dollar Spot Index rose 2.3 percent in the same month in its biggest jump since 2016. The strength in the greenback would drive down the value of any euro, yen or other non-dollar currencies in China's reserves, contributing to the contraction of the stockpile.