China's Forced Stock Sales Make a Bad Year Worse for Shenzhen
(Bloomberg) -- Forced stock sales are making matters worse for China's tech hub, where investors are already facing their steepest losses in a decade.
The Shenzhen Composite Index lost 1.9 percent Tuesday, extending a four-year low. At least two more companies on the gauge -- Jilin Zixin Pharmaceutical Industrial Co. and Dalian Zeus Entertainment Group Co. -- said overnight their shares were at risk of forced liquidation. The sell-off spread to Hong Kong's equity market, dragging down Shenzhen-based Tencent Holdings Ltd. by as much as 3.4 percent. The drop accounted for about half the losses on the Hang Seng Index.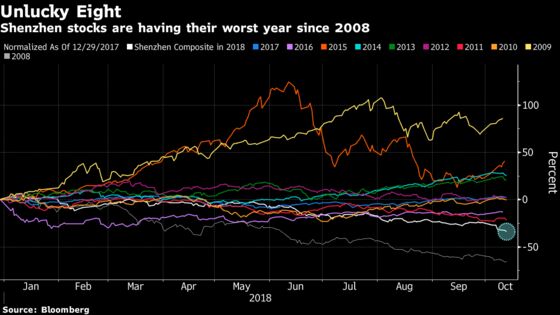 "There's a liquidity crisis in the stock market, and pledged shares are again starting to sound the alarm," said Yang Hai, analyst at Kaiyuan Securities Co. "Stocks in Shenzhen typically bear the brunt of loss of confidence in the stock market because of their higher valuations."
Tuesday's drop comes even as China took further steps to rein in risks of share-backed loans, a sign regulators are having limited impact. Insurers are being encouraged to invest in listed companies to reduce liquidity risks connected to such loans, the China Securities Journal reported over the weekend. China in June told brokerages to seek approval before selling large chunks of stock that have been pledged as collateral for loans, according to people familiar with the matter, while the top financial regulator in August warned the industry that it's closely watching corporate stock pledges.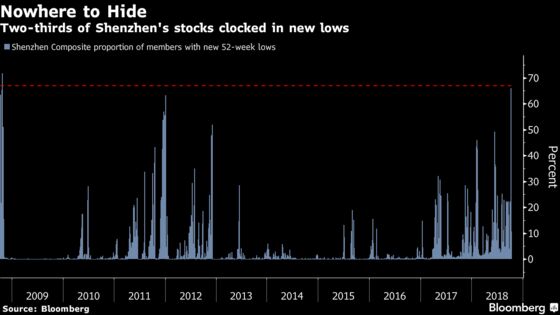 The Shenzhen gauge has fallen 34 percent in 2018, in line for the most since the 2008 global financial crisis, when it finished 62 percent lower. About one-fifth of the gauge's more than 2,000 stocks -- most of them privately-run startups -- have lost at least half of their value.
"If there are no real policies to cure the array of problems and ailments in our market, no one will be willing to take the risk," said Hai. "Authorities keep saying that there is room for more polices, but where are they?"