China's Export Boom to the U.S. to End in January, Nomura Says
(Bloomberg) -- A recent surge in exports from China to the U.S. is set to turn into a slump in January as tariffs imposed on Chinese goods rise, according to Nomura economists.
In September, U.S. President Donald Trump imposed a 10 percent tariff on $200 billion of imports from China and pledged to raise the duty to 25 percent at the beginning of next year, sparking a rush to ship goods to U.S. customers ahead of the increase.
That will probably boost Chinese export growth in this quarter by 1.8 percentage points and overall economic growth by 0.2 percentage points in nominal terms, the Nomura economists, led by Lu Ting, said in a report published Thursday. They estimated that export growth in the first quarter of 2019 will probably be 5.6 percentage points lower than in the fourth quarter -- and economic growth 0.7 percentage points lower -- as a result.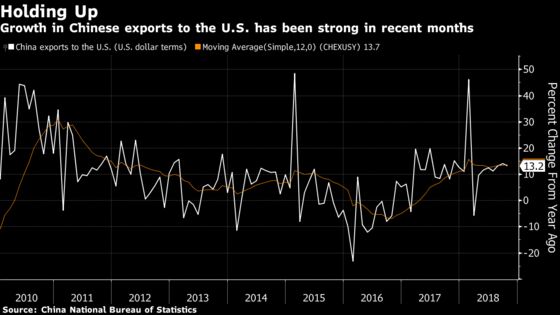 The report pointed to a surge of exports in categories targeted by the U.S. administration, and cross-checked it against shipping rates quoted at China's major ports.
"Freight rates on shipping routes from China's major ports to the U.S. have surged more significantly in recent months than those to other destinations, suggesting exporters have front-loaded their shipments to the U.S.," the economists wrote. "In response to a recent survey by the Department of Commerce in coastal Zhejiang province (a heavy exporter), many local enterprises reported U.S. importers required them to ship earlier to avoid the possibility of import tariff hikes."