China's Economy Picked Up in December, Early Indicators Show
(Bloomberg) -- China's economic performance improved in December for the first time in eight months, according to a group of earliest-available indicators compiled by Bloomberg.
Production in the world's second-largest economy accelerated as domestic demand stabilized, and market sentiment turned around on the prospect of a near-term trade deal with the U.S.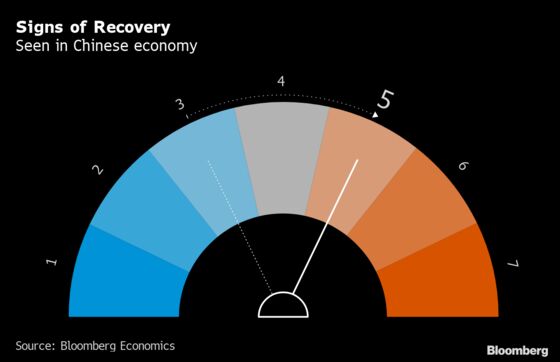 The reading is the latest sign that Chinese economy is at or close to a cyclical bottom after activity improved in November on a global demand rebound. While accepting that output is on a longer-term slowing trend, policy makers have sought to prevent a sharp deceleration into 2020 through a wide-range of measures to support consumption, labor mobility and the private sector.
That's led some economists to upgrade their growth forecasts for 2020, currently seen just edging below 6%. Profits at Chinese industrial enterprises rebounded in November, data released Friday showed, as factory-gate deflation eased and domestic demand improved.
What Bloomberg's Economists Say..

The reading "signals a brighter beginning for the coming new year. We expect that strength to extend in coming months, but the sustainability of the improvement in the longer term is still in question -- as we expect the economy to continue to slow next year."

Qian Wan, Bloomberg Economics, Hong Kong
Still, gauges of the manufacturing sector in the U.S., euro area and Japan moderated in December after a strong recovery in the previous month, likely weighing on China's exports. The National Bureau of Statistics on Friday warned that downward economic pressure was still lingering, and that "volatility and uncertainty" remain.
In the details, quickening production is evident in surging copper prices, which jumped to eight-month high, as well as in rising stocks. Exports from South Korea - whose largest trading partner is China - remained in contraction in the first 20 days of the month, though the decline has narrowed.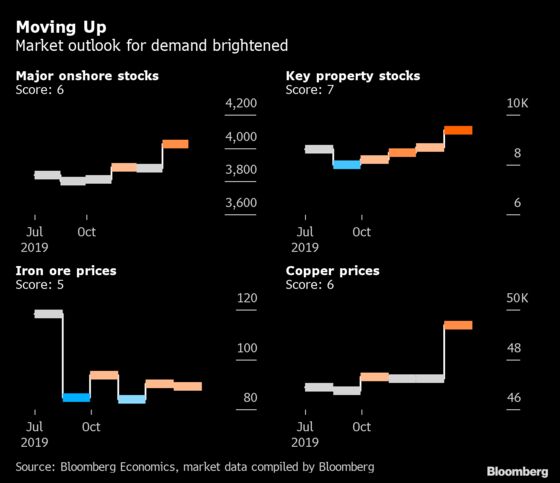 A gauge of small businesses by Standard Chartered Plc rose to the highest since April, suggesting increasing optimism among private and export-oriented firms. The U.S. is expected to lift some of the tariffs imposed on Chinese goods after the phase-one deal is signed, potentially early next month.
The decline in a Bloomberg tracker of producer prices started to narrow after months of deepening contraction, indicating factory-gate prices could resume gaining in coming months to help lift the nominal growth of the economy.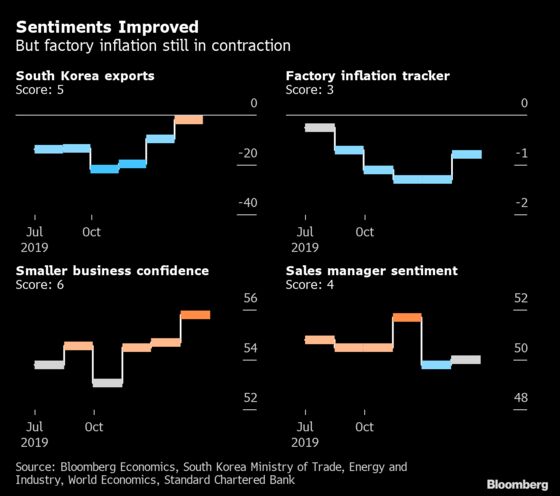 "Production accelerated as external demand rebounded, domestic demand increased and relatively warm weather facilitated activity," Shen Lan, an economist at Standard Chartered China Ltd in Beijing, wrote in a note. "We look for continued policy support for small- and medium-sized enterprises' financing in 2020."
Note on Early Indicator construction
Bloomberg Economics generates the overall activity reading by aggregating the three-month weighted average of the monthly changes of eight indicators, which are based on business surveys or market prices.
Major onshore stocks - CSI 300 index of A-share stocks listed in Shanghai or Shenzhen
Key property stocks - All the constituents of CSI 300 Index that are in the real-estate industry
Iron ore prices - Spot price of iron ore for shipment to Qingdao port
Copper prices - Spot price for refined copper in Shanghai market
South Korean exports - South Korean exports in the first 20 days of each month
Factory inflation tracker - Bloomberg Economics created tracker for Chinese producer prices
Small and medium-sized business confidence - Survey of companies conducted by Standard Chartered Bank
Sales manager sentiment - Survey of sales managers in Chinese companies by World Economics Ltd.