China's Central Bank Strikes Positive Tone as Economy Stabilizes
China's central bank struck a more positive tone in its quarterly monetary policy meeting, saying the economy is showing more stability and improvement even though domestic and global risks remain.
The monetary policy committee of the People's Bank of China largely reiterated its stance to keep policy, liquidity and the exchange rate steady, according to a statement Monday. It said the recovery is "operating in a stable manner with more strength and improvement," a shift from the first quarter, when it said growth was "still unbalanced."
The PBOC will also step up its coordination with global economic policies and prevent "external shocks," the committee said, suggesting it will pay more attention to the international policy environment now that the Federal Reserve is debating scaling back its pandemic stimulus.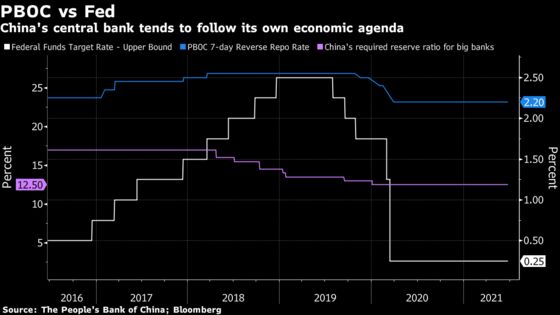 The statement sets a "reassuring policy tone" for the second half of the year and "should dispel some fear of more pronounced policy tightening," Citigroup Inc. economists led by Li-Gang Liu wrote in a note Tuesday.
After China's record economic expansion in the first quarter, recent indicators show growth is stabilizing and showing more balance. The PBOC has kept its policy stance unchanged this year, taking a gradual approach to curbing credit growth to tackle financial risks, while providing enough liquidity to the market to meet demand.
The PBOC's shift away from stimulus toward a more neutral policy puts it a step ahead of the Fed and means it doesn't need to follow the U.S. in tightening policy. Bloomberg Economics says the PBOC will stick to its own policy pace as it's emphasized in recent months that its domestic agenda is the priority. The central bank will most likely keep interest rates steady over the next few years, with a downward bias, it said.
What Bloomberg Economics Says...

The PBOC's readiness to go separate ways from the Fed, in our view, stems from a willingness to let the exchange rate move more freely. This means the PBOC can place less weight on external conditions, and focus on achieving domestic objectives.

Chang Shu and David Qu

For the full report, click here
The central bank kept the rest of the language in its statement largely unchanged. It reiterated that the macro leverage ratio, or total debt as a proportion of gross domestic product, will be kept stable, and vowed to match the expansion of money supply and aggregate financing in the economy with the nominal GDP growth rate.
The PBOC also repeated that it will boost exchange rate flexibility and keep the yuan stable at a reasonable, equilibrium level.
The statement indicates the committee has a more positive view on the economy than in the first quarter, Citic Securities analysts led by Ming Ming wrote in a note. The PBOC will probably keep monetary policy stable and is unlikely to loosen policy significantly going forward, they said.