China's CSI 300 Index Pares Losses as Investors Focus on NPC
(Bloomberg) -- China's main stock benchmark pared most of its early losses, narrowly avoiding a technical correction, as investors hunted for bargains while seeking cues from the National People's Congress that began on Friday.
The CSI 300 index ended 0.3% lower, with liquor maker Kweichow Moutai Co. one of the strongest positive contributors. The gauge is down 9.4% from its recent peak in Feb. 10 as some investors worried about the pace of its gains and as concerns about liquidity tightening and possible asset bubbles emerged. Still, the slump presented a buying opportunity for others.
"The sentiment is one of buying the dip, with Moutai's hitting 2000 yuan being a trigger," said Zhang Fushen, a senior analyst at Shanghai PD Fortune Asset Management LLP. "All of the expensive sectors have fallen significantly and are threatening to destroy their uptrend, but without a massive change in fundamentals and expectations, there's no reason for them to fall further and reverse from bull to bear."
Here's Everything You Need to Know About China's NPC So Far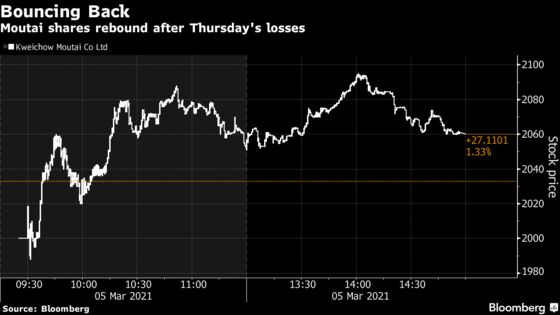 Shares of Kweichow Moutai closed 1.3% higher, reversing an intraday decline of 2.2%. The rebound supported the recovery in the CSI 300, which had fallen as much as 2% earlier.
The gauge sank by the most since July on Thursday, while a measure of two-week volatility spiked to a seven-month high. The nation's top banking regulator jolted markets earlier in the week with a warning about the need to reduce leverage amid the rising risk of bubbles globally and in the local property sector.
The recent rout in China has been driven by consumer staples, with the sub-gauge falling by more than 19% since the recent peak.
The whipsawing in prices on Friday came against the backdrop of the start of the NPC, China's biggest political meeting of the year that has big implications for investors globally. Shares of steel and aluminum firms, which had rallied ahead of the meeting, were among the worst performers on the mainland.
China set an economic growth target of above 6% for the year, well below what economists forecast, and outlined ongoing fiscal support with prudent monetary policy. The government will narrow the budget deficit to 3.2% of gross domestic product this year from 3.6% in 2020, Premier Li Keqiang said at the opening of the NPC.
The GDP target is "by no means a low figure and earnings in the nation's top companies are sure to well exceed that," said Chen Shi, a fund manager at Shanghai Jade Stone Investment Management Co. "Markets globally have become overly pessimistic on liquidity and in reality, they might be scaring themselves too much."
Meanwhile, things were mostly muted Friday in currencies and rates. The onshore yuan dropped 0.1% to 6.4775 per dollar as of 5:05 p.m. local time. The yield on China's 10-year government bonds fell two basis points to 3.25%