China's Credit Stabilizes as PBOC Encourages Banks to Lend
(Bloomberg) -- China's credit stabilized in October, largely due to seasonal factors and as the central bank encouraged banks to keep steady lending to the property sector amid a downturn in the economy. 
Aggregate financing was 1.59 trillion yuan ($249 billion) last month, the People's Bank of China said Wednesday, down from 2.9 trillion yuan in September and compared with 1.4 trillion yuan in October last year. Growth in the stock of outstanding credit was unchanged at 10%.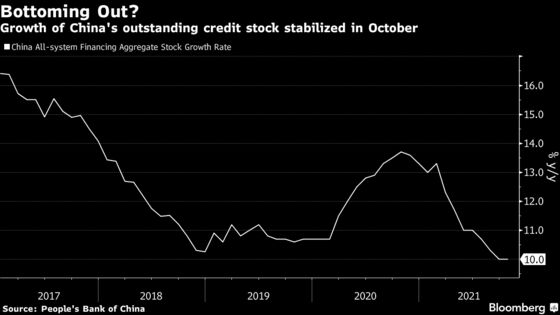 Credit growth is usually weaker in October as banks tend to lend less at the beginning of the fourth quarter. Stronger government bond issuance compared with last year was the main support to credit in the month.
Zhou Hao, a senior emerging markets economist at Commerzbank AG, said the expansion rate is likely to rebound in November and December due to a smaller base toward the end of the year and as the central bank steps up targeted lending support to the economy.
Credit expansion has slowed since February, as the People's Bank of China sought to scale back pandemic stimulus and contain financial risks. More recently, credit demand also started to weaken as the economy slowed under a number of headwinds including a slump in the property market.
The PBOC recently told banks to ease some excessive restrictions on lending to the property sector as concerns mounted over the industry's health with the deepening of China Evergrande Group's debt crisis. 
What Bloomberg Economics Says...

China's October aggregate social financing undershot expectations, but the details showed authorities are putting in efforts to keep financial conditions accommodative. Mortgage lending posted relatively stable gains amid concerns over the real-estate sector. Corporate funding was also stronger than what seasonality would suggest. 

David Qu, China economist

For the full report, click here.
Long-term loans extended to households, which includes mortgages, reached 422.1 billion yuan in October, down from 466.1 billion in the previous month, but higher than a year earlier. 
"There are some signs that PBOC policy is turning more supportive in response to strains in the property sector," Sheana Yue, assistant economist at Capital Economics Ltd. said in a note Wednesday. "As such, we think this might be the trough in credit growth."
Financial institutions offered 826.2 billion yuan of new loans in the month, down from 1.7 trillion in September but above a median estimate of 800 billion yuan in a Bloomberg survey of economists
In October, broad M2 money supply grew 8.7%, the fastest pace since March
The stock of outstanding yuan loans rose to 189.2 trillion yuan
Shadow banking -- comprising entrusted loans, trust loans and undiscounted banker's acceptances -- fell 212 billion yuan last month
Government bond financing was 616.7 billion yuan, jumping from 493.1 billion yuan in the same period last year
Net corporate bond issuance stood at 203 billion yuan