China Credit Growth Slows as Central Bank Normalizes Policy
(Bloomberg) -- China's credit growth moderated in December, suggesting that the massive increase in credit since last year may have peaked as the central bank seeks to normalize policy.
Aggregate financing was 1.72 trillion yuan ($266 billion), the People's Bank of China said Tuesday. That compares to 2.13 trillion yuan in November, with much of the decline coming from a large drop in shadow-banking activities
Financial institutions offered 1.26 trillion yuan of new loans in the month, lower than in November but higher than December 2019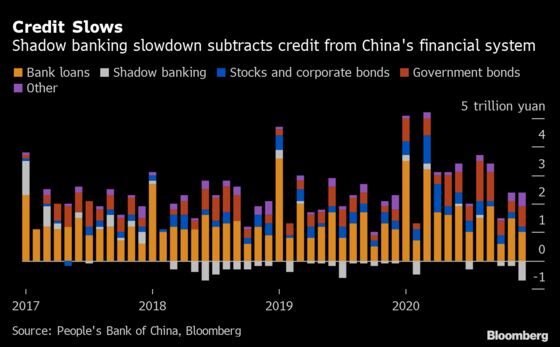 With the economy's recovery picking up pace, the central bank is starting to explore the possibility of exiting some emergency stimulus measures rolled out during the pandemic, while maintaining necessary support in certain areas.
Governor Yi Gang said in an interview with state-run Xinhua News Agency last week that monetary policy in 2021 should be stable, and that liquidity should be kept reasonable and ample. He added that growth rates for M2 money supply and aggregate financing should match that of nominal gross domestic product.
Tuesday's data showed growth in M2 money supply slowed to 10.1% in December, while the pace of outstanding credit stock also eased to 13.3%.
Market participants "need to embrace a gradual normalization of monetary and credit policy," Lu Ting, chief China economist for Nomura Holdings Inc., wrote in a note. However, with China battling a new wave of coronavirus cases near Beijing and re-imposing social distancing restrictions in some areas, policy makers will probably move slowly, he said.
"The withdrawal of policy stimulus will be gradual and moderate, the slowdown in credit growth will be moderate, and rate hikes are more likely to commence in 2022 than in 2021," he said.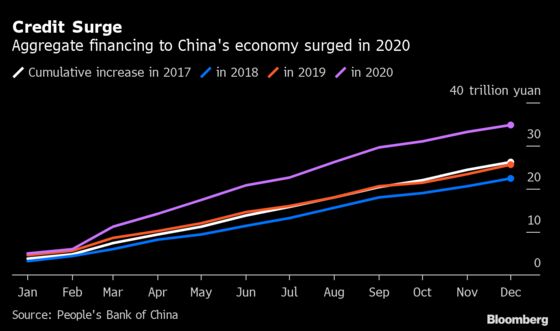 China Securities Journal said in a front-page commentary Wednesday that the PBOC's recent steady liquidity injection via daily reverse repurchase operations is a signal to investors of the central bank's intention to keep policy "appropriate," with no sharp turn. Investors can pay attention to the medium-term lending facility operation on Jan. 15, it said.
What Bloomberg Economics Says...

The weaker-than-expected data shows a "typical seasonal lull and the tapering of stimulus by the People's Bank of China ... But we still expect the central bank to inject long-term liquidity into the banking sector in 1Q, probably via targeted tools, to help support lending to smaller businesses."

-David Qu, China economist

To read the full report, click here
Net financing of corporate bonds slowed to the lowest level since September 2018 from a month earlier, while government bond issuance was stronger than a month earlier
Shadow banking -- comprising entrusted loans, trust loans, and undiscounted bankers acceptances-- dropped by 737.6 billion yuan, the most in at least four years
Medium and long-term lending to households and non-financial companies rose by almost 1 trillion yuan