China's Robust April Credit Growth Shows Policy Support Working
(Bloomberg) -- China's credit provision in April was stronger than the same period in recent years, signaling the central bank's credit easing policy is helping revive domestic demand.
Aggregate financing increased by 3.09 trillion yuan ($436 billion) last month, compared to a median estimate of 2.78 trillion yuan. That was less than the record expansion of 5.15 trillion in the previous month, but higher than previous readings in April in comparable data back to 2017
Financial institutions offered 1.7 trillion yuan of new yuan loans in the month, versus a projected 1.3 trillion yuan
The growth of outstanding aggregate financing picked

up to

12% in April, compared with 11.5% growth in the previous month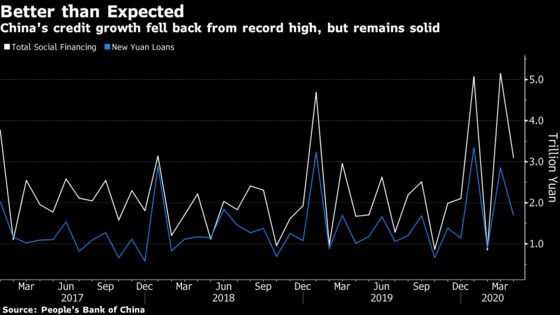 Broad M2 money supply grew 11.1% from a year earlier, the fastest pace since late 2016 when the deleveraging campaign intensified.
Credit growth has stayed robust thanks in part to easing policy from the People's Bank of China, even amid sluggish domestic demand and the collapsing global economy. The PBOC has lowered the cost of its funding to banks, pledged liquidity to virus-hit sectors and lowered requirements on banks' buffers to allow them to lend more. It'll likely continue to supply cash to banks in May to help them handle rising liquidity demand.
The strong credit impulse may be effective in saving businesses from immediate collapse, but not enough to help the world's second biggest economy make an rapid rebound. Economists have flagged the risk of technical recession this quarter, and data due later this week will give investors a first read on how global economy has affected China.
"This is quite impressive," and it indicates the activity indicators should see big improvement, said Zhou Hao, senior Emerging Markets economist at Commerzbank AG in Singapore. "On the flip side, this will dampen the rate cut expectations particularly for this month."
"China is turning on the spigots. Credit is flowing freely again, spurred by a heavy dose of liquidity injections by the central bank," said Frederic Neumann, co-head of Asian economic research at Hongkong & Shanghai Banking Corp Ltd. in Hong Kong. "Monetary officials have started to lift the brakes, worried more about downsides to growth and employment than frothy asset markets. The PBoC will likely maintain its accommodative stance for a while, and much more will need to be done on the fiscal front as well."
What Bloomberg's Economists Say...

"China's stronger–than-expected April credit reflects both the impact of monetary policy support and a continued recovery in the economy. The economy still needs policy support -- more so than ever as the global slump hits demand for exports."

Chang Shu & David Qu, Bloomberg Economics

For the full note click here
Aggregate financing was supported by net sales of corporate bonds and yuan-denominated loans in April, according to the breakdown provided by the PBOC. Yuan-denominated loans is a slightly narrower gauge than new yuan loans, which also includes banks' lending to financial institutions, according to Australia & New Zealand Banking Group. Shadow banking expanded slightly in the month, the second growth in two straight months.
"There is some arbitrage in the financial market to borrow cheap money for a stable interest income from long term savings products, e.g. structured deposits," said Iris Pang, an economist at ING Bank in Hong Kong.
Pang pointed to the fact that the growth of outstanding new yuan loans by the end of April was actually slower than the same period in 2019, in contract to a big jump in the broad money M2 growth. "Corporates cannot get loans from banks continued to issue bonds as an alternative. But the money raised seems to be deposited in banks as M2," she said.