China's Credit Surges in January With Record Jump in Loans
(Bloomberg) -- China's credit surged in January, with a seasonal boost in borrowing early in the year and a strong recovery in the economy resulting in record loans.
Aggregate financing was 5.17 trillion yuan ($802 billion) last month, the People's Bank of China said Tuesday. That compares with 1.72 trillion yuan in December and 5.05 trillion yuan in the same month last year. The median estimate in a Bloomberg survey of economists was 4.6 trillion yuan
Financial institutions offered a record 3.58 trillion yuan of new loans in the month, the highest in data going back to 1992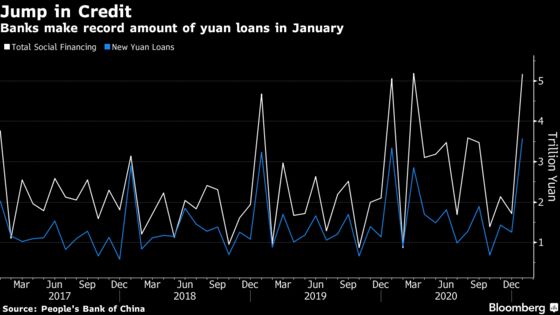 Medium and long-term loans to non-financial companies and households both hit records, with banks making almost 3 trillion yuan of those types of loans
The surge in credit shows strong corporate funding demand as the economy recovers, although slower growth in money supply suggests the central bank is tapering its monetary stimulus, according to Bloomberg Economics
Growth in broad M2 money supply eased to 9.4% in January from 10.1% in December. The stock of outstanding credit also grew at a slower pace last month, easing to 13% from 13.3% in December
What Bloomberg Economics Says...

"An economy on firmer footing will be better able to cope with reduced monetary support. A slowdown in year-on-year growth in M2 money supply suggests the effort to stabilize macro leverage is meeting some success."

-- David Qu, China economist

For the full report, click here.
Credit growth is expected to slow this year as China begins withdrawing the monetary and fiscal stimulus it pumped into the economy last year. Sun Guofeng, head of the monetary policy department at the central bank, also pointed to base effects that will likely distort figures in coming months, resulting in slower growth in new loans, money supply and aggregate financing compared with last year, even if there are large absolute increases
Shadow banking, which comprises entrusted loans, trust loans and undiscounted banker's acceptances, rose by 415.1 billion yuan
Corporate bond issuance bounced back from concerns about defaults at the end of 2020, with 375.1 billion yuan of new debt sold in January
There was also 243.7 billion yuan in government debt, less than a third of the total in January 2020