China's Central Bank Should Cut RRR, Government Adviser Says
(Bloomberg) -- China's central bank has room to cut the amount of cash banks must hold in reserve in order to boost liquidity and support economic growth, a government adviser said.
The reserve requirement ratio "can be lowered by 1 percentage point in the fourth quarter," said Yao Jingyuan, a special researcher at the Counselor's Office of the State Council, which provides research and advice to the cabinet. 
"We don't need to worry about whether releasing more money will push inflation higher because we still have room," Yao told reporters Monday, according to an online transcript of a briefing. His comments about a RRR cut were later removed from that document.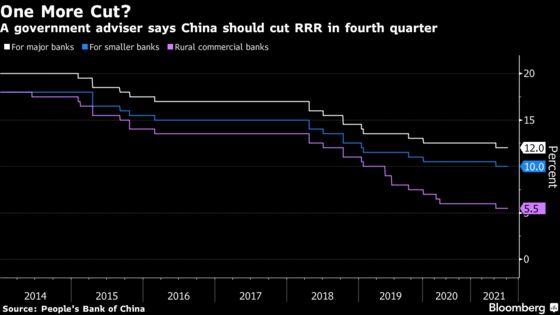 Recent remarks from People's Bank of China officials suggest they can manage financial risks and don't see the need for significant stimulus despite a sharp slowdown in the economy. That prompted some analysts to dial down their expectations for a RRR cut in the coming weeks and months. 
The yield on the 10-year sovereign bond fell 2.5 basis points to 3.01%, after rising 4.5 basis points on Monday. 
Yao, a former chief economist at the National Bureau of Statistics, said a 1 percentage-point cut would unleash 1 trillion yuan ($156 billion) of liquidity. Based on on-the-ground investigations, the liquidity condition of companies remains generally quite tight, he said. 
China doesn't need to worry about stagflation because inflation remains low, Yao said. Consumer inflation is likely to be 1% for the full year, he said, adding that many people worried China would have severe inflation late last year and early this year, but pork prices ended up plunging and the government rolled out measures to stabilize prices, he said. 
The current slowdown is directly related to the slump in investment, and infrastructure investment must play a key role in stabilizing growth, Yao said. Authorities should bring the start date of approved major projects in the five-year plan forward to make sure construction starts from the fourth quarter to next year, he said.
Yao also urged local governments to speed up the issuance of special bonds, which have been much slower than in previous years. Authorities can also increase fiscal spending to provide targeted support to industries, such as the car and shipping industries.