China's Bond Rally Is Turning Into a Bubble, Guotai Junan Says
(Bloomberg) -- A world-beating rally in Chinese government debt is at risk of unraveling as the central bank may disappoint investors betting on more easing, according to the nation's second-largest brokerage.
Traders could be "overdrawing" next year's gains by being too hopeful for monetary loosening because China could refrain from sending a strong easing signal during the 90-day trade-war truce with the U.S., according to Guotai Junan Securities Co. While stopping short of calling it a bubble, Credit Agricole SA echoed some of the concern, saying current bond yields can't be fundamentally justified.
"Bonds have rallied so much that no one dares to be bearish," Guotai Junan analysts led by Qin Han wrote in a note Monday, adding that such bullishness is a sign a bubble is forming. "We recommend investors stay close to the 'exit' in order to avoid the risk of major losses in the near future."
The yield on 10-year sovereign notes has slid 22 basis points in the past month to a 20-month low. The yield on sovereign notes due in a decade fell 4 basis points to 3.27 percent as of 5:01 p.m. in Shanghai.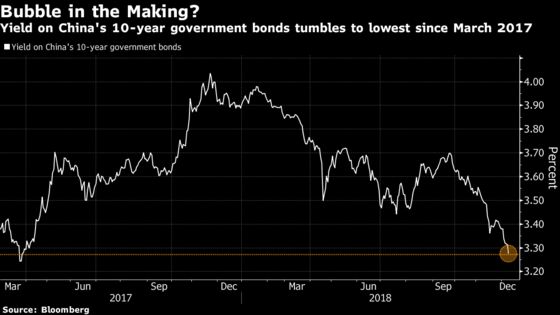 Foreign funds, which tend to make long-term investments, have already started exiting the market. They became net sellers of onshore bonds last month for the first time since February 2017, as the yield gap between Chinese and U.S. debt narrowed. Meanwhile, mainland financial institutions -- driven by the need to make profits before year-end -- are adding to bond holdings, Guotai Junan said. It said this divergence is also a sign that a bubble is forming.
Yields are likely to stabilize and begin to rise mostly in the coming days, Dariusz Kowalczyk, senior emerging market strategist at Credit Agricole, wrote in a note Monday. Fundamentals don't support current levels, especially if foreign demand disappears for longer than just one month and if funding costs continue to rise, he wrote.
There are still plenty of bulls betting China will need to ease further due to a slowing economy and uncertainties around U.S. trade relations. Citic Securities Co. and Haitong Securities Co. predict the 10-year yield may fall to 3 percent next year.