Dollar Costs Too High? China Bond Issuers Return Home for Funds
(Bloomberg) -- Chinese borrowers faced with heavy amounts of bonds due next year will increasingly turn to the domestic market for funding, lured by cheaper costs at home, analysts say.
Thanks to bouts of stimulus measures, the average domestic borrowing cost for Chinese corporations has plunged 108 basis points this year to a two-year low of 4.21 percent on Friday. In contrast, yields on dollar bonds from the country are near a five-year peak of around 5.44 percent as a surge in defaults, a trade war and higher U.S. Treasury yields spook international investors.
Such divergence will see more Chinese companies taking advantage of lower local yields for refinancing next year, according to S&P Global Ratings. At stake is 4.9 trillion yuan ($710 billion) of local note maturities in 2019, a near record. In a preemptive move, the People's Bank of China has rolled out targeted measures to help cash-squeezed private firms.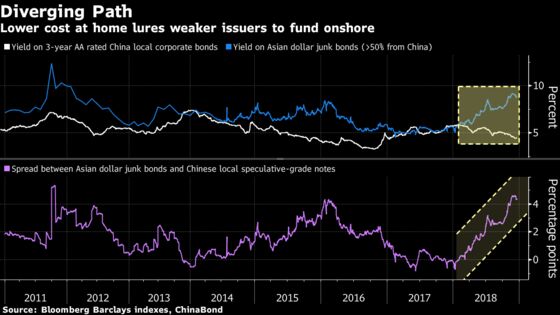 "If we look at the bigger picture, policy makers will have to keep easing and relaxing policy to let companies, especially the lower-rated ones, to refinance, otherwise the options for them are limited," said Christopher Lee, managing director of corporate ratings at S&P. "They'd be able to send the onshore proceeds offshore for dollar repayments" given the policy is to support refinancing of foreign currency debt, he said.
The industrial sector faces the highest amount of bonds due next year at 1.2 trillion yuan, followed by developers at 500 billion yuan, according to Bloomberg-compiled data.
Market participants including Matthews Asia and Shanghai Securities Co. expect policy makers to roll out more stimulus policies, such as tax cuts, to shore up the economy. The latter says falling Chinese government bond yields will boost demand for corporate debentures.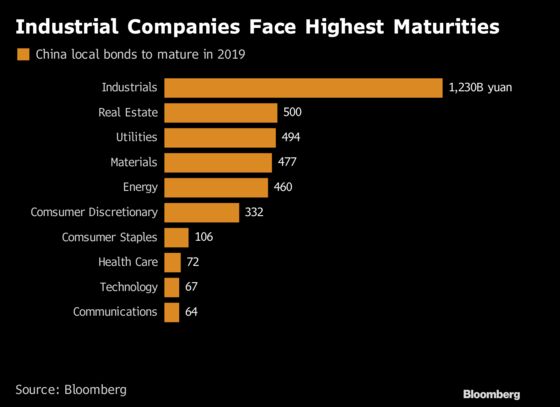 To be sure, the funding environment will remain challenging for weaker private sector companies both onshore and offshore. Some of the smaller property developers were forced to pay sky-high costs on dollar bond offerings this month to refinance upcoming maturities.
Moody's Investors Service says China's junk-rated issuers will have to cope with rising dollar funding costs next year, because their optional onshore funding channels via shadow banking have mostly been blocked.
"The domestic funding environment will improve for certain groups of issuers such as local government financing vehicles and even some builders," said Becky Liu, head of China macro strategy at Standard Chartered Plc. "Right now, yields on local bonds are quite low, which may help reduce refinancing pressure in dollars."