China's Big Rally Struggles to Move Asia's Needle
(Bloomberg) -- China's outsized stocks rally has had an undersized impact on the Asia regional equity gauge, underscoring the debate over wider inclusion of the country's domestic shares in global index benchmarks.
On a banner day for domestic A-shares Monday, when the CSI 300 Index jumped 6 percent -- the most since 2015 and enough to propel the market into bull territory -- the MSCI Asia Pacific Index advanced only 0.8 percent. That was its biggest increase since... last Wednesday. On Tuesday, the regional gauge slipped just 0.4 percent as the CSI 300 and Shanghai Composite Index fell 1.2 percent and 0.7 percent, respectively.
Now, given China's status as the world's second-largest economy and the devastating effects on regional supply chains its trade war with the U.S. has had, there's no doubt about the country's bona fide in terms of economic importance. Yet the true weight of its booms and busts is still not completely felt by index investors, at least when it comes to its stocks.
A closer look at the Asia benchmark's biggest equity movers and shakers illustrates this apparent disconnect: The top 10 best-performing stocks this year are currently dominated by A-shares, led by Anxin Trust Co.'s 86 percent gain. Hong Kong-listed China Galaxy Securities Co. and ZTE Corp. are the only exceptions.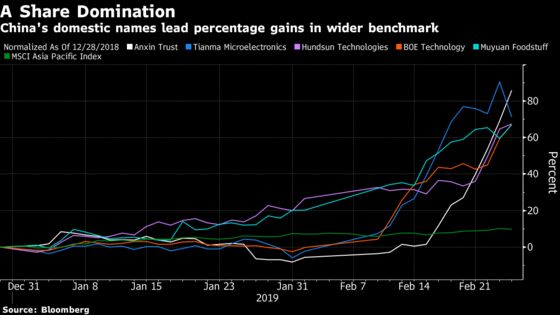 Yet when it comes to the biggest contributors to the MSCI Asia Pacific Index's gains based on index points, the picture is more diversified:
| Stock | % change YTD as of Feb. 25 | Index points moved |
| --- | --- | --- |
| Alibaba  | 34 | 1 |
| Samsung Electronics | 22 | 0.7 |
| SoftBank Group | 41 | 0.4 |
| Tencent Holdings | 9.5 | 0.4 |
| AIA Group | 18 | 0.3 |
Ultimately, all this adds further ammunition to those encouraging index compiler MSCI Inc. to proceed with its proposed plan to significantly increase the weight of domestic China shares in its global gauges this year. After consultations, the firm is expected to announce its decision by the end of this month. Of course, there are risks to increased China exposure, including a history of stock suspensions, an issue MSCI downplayed in October.
That said, a lower weighting of Chinese stocks in the regional benchmark limits the impact of any A-share weakness and volatility. The classic example would be last year, when China held the title of the world's worst major stock market after its biggest plunge since 2008.
The potential greater inclusion is just part of "relatively seismic shifts" that may soon significantly alter the balance of power among emerging markets. MSCI, along with peers S&P Dow Jones Indices LLC and London Stock Exchange Group Plc unit FTSE Russell, are all undergoing index reviews over the next year to consider taking on exposure to securities from Saudi Arabia, Argentina, China A-shares and Kuwait, according to a recent UBS Group AG report.
The rejig will likely result in some $121 billion in active and passive fund flows shifting across the emerging-market universe, with incumbents including South Korea, Taiwan and others likely to see outflows, according to UBS.
MSCI Asia Pacific Index down 0.4%
Japan's Topix index down 0.2%; Nikkei 225 down 0.4%
Hong Kong's Hang Seng Index down 0.6%; Hang Seng China Enterprises down 0.7%; Shanghai Composite down 0.7%; CSI 300 down 1.2%
Taiwan's Taiex index little changed
South Korea's Kospi index down 0.3%; Kospi 200 down 0.4%
Australia's S&P/ASX 200 down 0.9%; New Zealand's S&P/NZX 50 down 0.2%
India's S&P BSE Sensex Index down 0.5%; NSE Nifty 50 down 0.3%
Singapore's Straits Times Index down 0.4%; Malaysia's KLCI down 0.4%; Philippine Stock Exchange Index up 0.3%; Jakarta Composite down 0.1%; Thailand's SET down 0.3%; Vietnam's VN Index down 0.7%
S&P 500 e-mini futures down 0.2% after index closed up 0.1% in last session