China Reflation Sees Citigroup More Positive on Emerging Markets
(Bloomberg) -- China's reflation, a possible peak in U.S. bond yields and the prospect of a softer dollar over time are set to provide a lifeline for battered emerging markets, according to Citigroup Inc.
The U.S. bank upgraded its recommendation on developing-nation assets to neutral from underweight, in a note released Tuesday.
"In the past, China monetary reflations have lowered EM risk aversion, reduced credit spreads, and boosted the relative performance of EM stocks," strategists including London-based Jeremy Hale wrote. A lot of the negative implications from the U.S.-China trade war are already priced in, they also concluded, with one benchmark hitting the lowest level in one and a half years this month.
As signs of a slowing economy increased this year and trade tensions worsened, China shifted from a deleveraging campaign to one of targeted stimulus to cushion growth. The People's Bank of China has pumped some 3.4 trillion yuan ($492 billion) into the banking system so far this year, Citigroup estimates.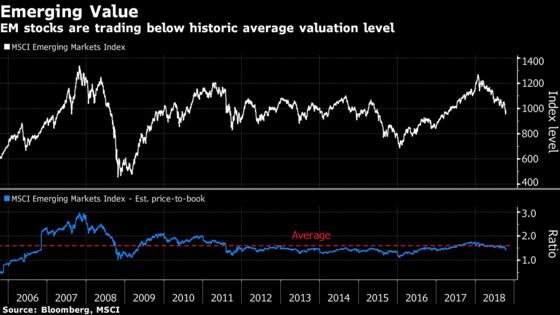 A stronger dollar, trade-war fears and a series of individual crises from Turkey to Argentina have pummeled the asset class this year. The MSCI Emerging Markets Index has fallen almost 15 percent, compared with a 2 percent decline in the MSCI AC World Index. Developing-nation currencies have also tumbled.
The correction in emerging-market shares is closer to the end than the beginning, wrote Markus Rosgen, Citigroup's chief Asian strategist, in a separate note Tuesday. Valuations using a price-to-book analysis have fallen to levels similar to the end of previous declines, he said.
"Given today's EM valuations and comparing them with past oversold levels, much of the correction is done," he wrote.