China Investigates Bad-Debt Industry Veteran for Corruption
China put a veteran bad-debt company executive under official investigation on suspicion of corruption, the latest scandal hitting the troubled industry.
Hu Xiaogang, a vice president at Beijing-based China Great Wall Asset Management Co., is being probed on suspicion of "severe disciplinary and law violation," the Communist Party's anti-corruption watchdog, the Central Commission for Discipline Inspection, said in a statement. It only referred to Hu, 57, as a former vice president at China Orient Asset Management Co., another of the nation's bad debt managers, which he left in 2018 after almost 20 years at the firm.
The companies are among four major state-run distressed-loan managers that also include China Huarong Asset Management Co. and China Cinda Asset Management Co. The investigation comes amid increasing concerns among investors over the financial health of Huarong, whose former chairman Lai Xiaomin was executed in January for crimes including bribery, and its peers.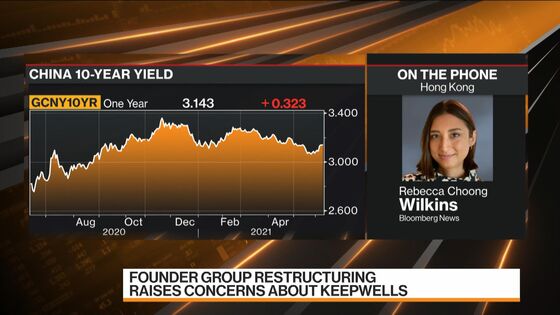 Huarong has continued to repay its bonds and said it has seen no change in support from the government. But its offshore and onshore bonds have come under pressure in a selloff that has spread to peers amid questions about government backing for the industry. None of the four bad-loan managers has tapped the offshore bond market since Huarong shocked investors by failing to publish its financial results at the end of March.
Spreads on the firms' debt widened early Wednesday, with Great Wall's 3.875% dollar bond due 2027 growing by 10 basis points to 244 basis points as of 10:28 a.m. in Hong Kong, set for widest closing gap since July, according to Bloomberg-compiled data. The spread on China Orient's 2.75% dollar bond due 2030 widened 4 basis points to 241 basis points, erasing a Tuesday tightening.
Great Wall said on Wednesday that its operations are normal and unaffected by the investigation. Representatives at Orient and the China Banking and Insurance Regulatory Commission didn't immediately respond to requests seeking comments.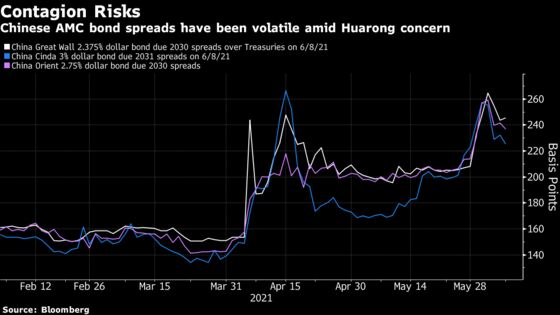 China created its asset management firms in the aftermath of the Asian financial crisis, when decades of government-directed lending to state firms had left the biggest banks on the brink of insolvency. They have since expanded beyond their original mandate, creating a labyrinth of subsidiaries to engage in other financial businesses and borrow billions from the bond market.
The bad-loan managers have combined liabilities of about 4.5 trillion yuan ($703 billion), including $49 billion of outstanding dollar bonds, according to their latest financial statements and data compiled by Bloomberg. The firms need to refinance or repay $4.9 billion of maturing dollar notes through year-end.
Hu is the most senior executive of China's bad-debt industry to be probed after the downfall of Lai. A biography attached to CCDI statement, also identified him as a former member of Great Wall's Communist Party committee. Great Wall's website doesn't show him as a member of the firm's leadership.
The Communist Party Committees of Great Wall and Cinda both held meetings after the probe of Hu was initiated and "resolutely" support the authorities, according to separate statements. The companies vowed to continue their anti-corruption campaign and step up their rectification.