China Proxies Offer Hope Amid Market Mayhem
(Bloomberg Opinion) -- The pound is getting hammered as U.K. lawmakers fail to agree on how to leave the European Union, with one strategist calling it "the biggest circus of modern politics." An alarming number of influential investors are warning about big problems ahead in the credit markets. Last year's global synchronized economic recovery is in jeopardy of turning into a synchronized global slowdown. The negatives facing global markets aren't just mounting — they seem to be multiplying. But there is hope.
The currencies of Australia and New Zealand are showing a surprising amount of strength, appreciating 3.45 percent and 5.91 percent, respectively, over the past month against a basket of nine developed-market peers. Those are the two biggest gains among the group. The so-called Aussie and kiwi are important to watch because of their economic ties to China. As such, they are often seen as a proxy for what is happening in China and sentiment toward that nation's economy. In other words, the strength in the Aussie and kiwi is due at least in part to optimism that China's economy is in better shape than many give it credit for and that a trade war with the U.S. may be on the verge of easing. But it's not all speculation that's driving the currencies higher. The latest economic data out of Australia and New Zealand have been beating forecasts by a greater degree than any other country, according to the Citigroup Economic Surprise indexes. On Thursday, Australia said it added 32,800 jobs in October, more than the 20,000 median estimate of economists. In a bullish signal, Reserve Bank of New Zealand Governor Adrian Orr removed an explicit reference last week in his policy statement that interest rates might need to be lowered.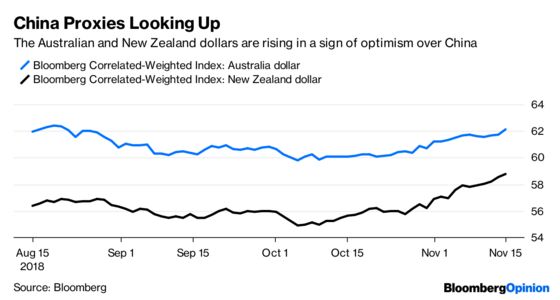 CHINA TURNS A CORNER. MAYBE.
China's financial markets are also starting to send some positive signals for the first time in a long time. The CSI 300 Index of equities jumped 1.17 percent Thursday, bringing its gains to 6.50 percent from its low for the year on Oct. 18. In contrast, the MSCI All-Country World Index is down 1.67 percent. The yuan is starting to strengthen, rising for a third day in its longest streak of gains in more than a month. China's bond market is recovering after two consecutive monthly declines. The Bloomberg Barclays China Aggregate Bond Index has risen 1.14 percent in November even though the global fixed-income market is down 3.53 percent. There's a growing sense that China and the U.S. will soon resolve what has been an escalating trade war, with U.S. President Donald Trump and China President Xi Jinping scheduled to meet later this month on the sidelines of the Group of 20 summit in Buenos Aires. White House economic adviser Larry Kudlow said on Tuesday that the U.S. and China have resumed contact "at all levels" over trade. And reports in China on Thursday said officials there have outlined potential concessions to the Trump administration for the first time since the summer.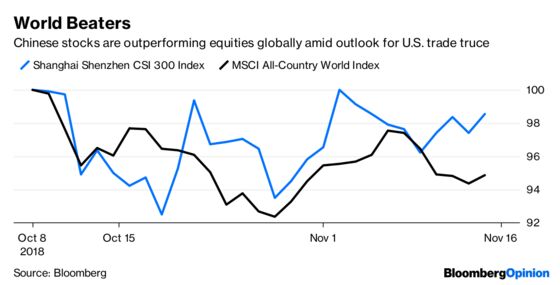 STOCKS SENSE A TRUCE
The chatter about a coming trade truce intensified during U.S. hours, helping to brighten the mood among stock traders worried about the increased possibility of a so-called hard Brexit by the U.K. that could throw global markets into turmoil. It wasn't much, but a Financial Times report that the U.S. and China have "intensified efforts to strike a truce" was enough to erase losses in the S&P 500 Index and send the benchmark to its first gain in six days. It remains to be seen how long the optimism can carry U.S. stocks with consumers looking reluctant to dig deep into their pockets to spend big on the coming holidays. Although the government said Thursday that October retail sales rose by the most in five months, a measure of underlying demand known as the control group advanced by less than forecast, while downward revisions to the prior months' data also put a damper on the overall picture, according to Bloomberg News. A dimmer view of spending also showed up Thursday in a gauge of consumer sentiment: Attitudes toward making purchases slid last week to the lowest level since June in the Bloomberg Consumer Comfort Index. Even though broader measures of the stock market rebounded, the S&P 500 Retailing Index was poised for its fifth consecutive decline.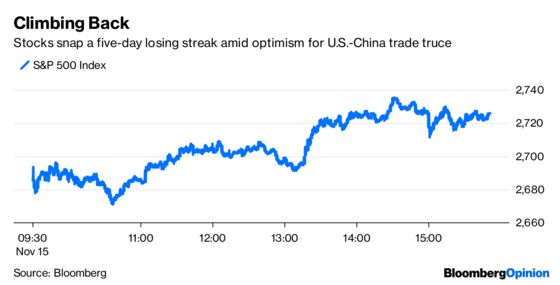 POLITICS IS MESSY
At first glance, it looked as if the U.K. was headed for a true economic crisis. Sterling tumbled as much as 2.21 percent as measured by the Bloomberg Pound Index, its biggest drop since June 2016, when U.K. voters decided to exit the European Union. The sell-off was sparked by the resignation of several ministers in U.K. Prime Minister Theresa May's Cabinet who said they couldn't back the agreement she reached to exit the EU. While neither the political turmoil nor the drop in sterling is good, the index is only at its lowest level since the end of last month. That's a sign that traders generally believe a deal can be struck before things get too messy. "The recent events in the United Kingdom clearly increase political risk and reduce the probability that the Brexit process will proceed smoothly and cleanly in the coming weeks and months," Wells Fargo & Co. currency strategist Erik Nelson wrote in a report Thursday. Even so, "we remain of the view that the pound will move higher on balance over the next few weeks and months." The median estimate of strategists surveyed by Bloomberg is for the pound to appreciate to $1.30 by the end of the year, from about $1.2786 Thursday, and to $1.33 by the end of the first quarter.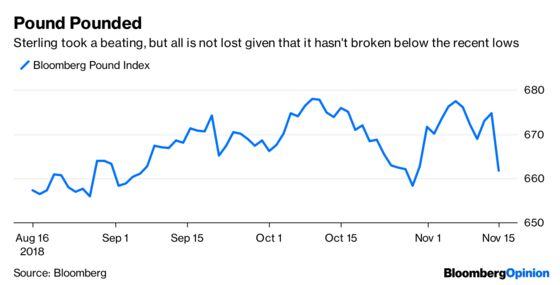 THE NATURAL GAS 'MINEFIELD'   
The roller-coaster ride in natural gas continued Thursday, with prices tumbling as much as 19 percent a day after soaring 18 percent. The wild swings are widely thought to be tied to a complicated trade set up by one or more big investors that in essence bet on a gain in oil and a drop in natural gas. When oil starting moving opposite of the desired direction, the trader, traders or even a company in the energy industry had to quickly reverse their positions, exacerbating the moves in oil and natural gas. Natural gas likely "overshot to the upside as short positions were unwound," Jeffrey Currie, global head of commodities research at Goldman Sachs Group Inc., wrote in a research note to clients on Thursday. That's a credible theory, especially because natural gas tumbled even though, as Bloomberg News's Naureen S. Malik reported, gains in a U.S. stockpile came in only slightly above expectations and weather forecasts showed moderating cold ahead. The outlook for less cold weather revives concern that record production from shale basins will overwhelm demand even as stockpiles enter the winter at a 15-year seasonal low. "It's like going through a minefield in this market," said Phil Flynn, senior market analyst at Price Futures Group in Chicago.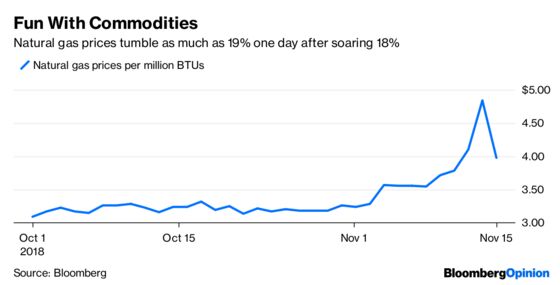 TEA LEAVES
Given everything else that has been going on in global financial markets lately, one topic that probably hasn't received the attention it deserves is foreign demand for U.S. Treasuries. Although it's certainly important among the fixed-income crowd, the implications of whether foreigners still have an appetite for U.S. debt is hugely important. Any signs they are pulling back as the U.S. ramps up borrowing to finance a soon-to-be $1 trillion budget deficit has the potential to roil global financial markets like nothing else. Markets will get some clues Friday afternoon when the U.S. government releases its monthly Treasury International Capital, or TIC, report for September. The good news is, the latest data show foreigners rebuilding their holdings of U.S. Treasuries, to $6.29 trillion in August. That's the highest since November 2017 and just below the record $6.32 trillion in October 2017. The bad news is that total marketable U.S. government debt outstanding has surged to $15.4 trillion from $14.3 trillion in that period, which means that foreign ownership as a percentage of debt has dipped.
This column does not necessarily reflect the opinion of the editorial board or Bloomberg LP and its owners.
Robert Burgess is an editor for Bloomberg Opinion. He is the former global executive editor in charge of financial markets for Bloomberg News. As managing editor, he led the company's news coverage of credit markets during the global financial crisis.