China Private Bond Sales Rise as Issuers Guard Against Turmoil
(Bloomberg) -- Chinese corporate borrowers are turning in greater numbers to private placements to sell bonds, seeking to lock in funding from alternative channels as public markets turn choppy.
Precise data for private placements -- bonds directly negotiated between companies and investors without a public sale -- are hard to come by, but fund managers and debt capital markets bankers said the trend is picking up in China as market conditions deteriorate.
"We see a rising number of club and private placement deals out of China this year as issuers try to tap into new channels for funding," said Wonnie Chu, managing director of fixed income at GaoTeng Global Asset Management Ltd. in Hong Kong. "Some investors like such deals as they are not subject to mark-to-market movement."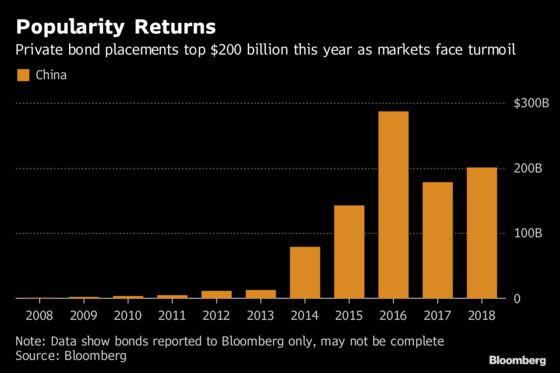 With two weeks of the year remaining, private placements in the local bond market rose to at least $200.9 billion, up 13 percent from the previous year's total, according to data compiled by Bloomberg. The data only includes deals reported to Bloomberg as private placements, so may understate the total size of the market.
Such sales often allow Chinese companies to grab attention for deals that wouldn't exist in more competitive public markets, as well as the prospect of better financing costs, said Ivy Thung, head of credit research at Nikko Asset Management Asia Ltd. in Singapore.
"Interest rates have been increasing and sometimes private placements can help companies lock in better rates for investors that are comfortable with the credit," she said. The trend would likely continue into 2019 if funding costs continue to climb, Thung said.
While common across the world's bond markets, private placements have their limitations. Jack Siu, investment strategist for Asia-Pacific at Credit Suisse in Hong Kong, says they can leave bond investors with only a partial view of a company's total debt.
"China is less transparent with its shadow banking system and people become more concerned when data isn't publicly disclosed," he said. "If it's going to become a trend, the detail on how markets are developing will be quite important information for public debt investors."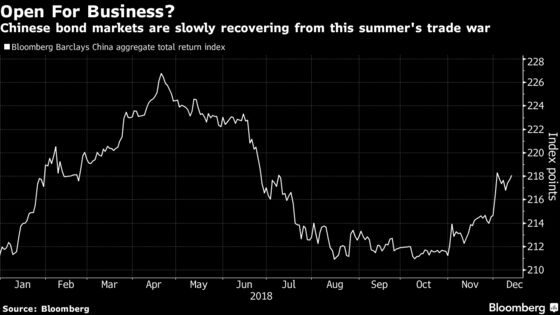 Chinese regulators have tightened the availability of financing to private companies as part of a push to cut leverage, which has led to companies seeking rarely-used forms of public financing as an alternative.
For Hayden Briscoe, head of fixed income for Asia Pacific at UBS Asset Management, that means more inquiries about private placements from Chinese issuers of dollar bonds. Most are trying to issue debt maturing within two years, he said.
"We get asked all the time," he said. "Private placements have picked up substantially onshore."
There is often a "blurring of lines" between private and public deals, said James Arnold, head of debt capital markets for Asia Pacific at Citigroup Inc. in Hong Kong. Some transactions even start out in the public market and end up as private deals.
Nevertheless, investment banks and asset managers are gearing up for more private sales during the next few years, said Mark Konyn, group chief investment officer at AIA Group Ltd.
"The public markets have exhausted all the value that's available" he said. "You're now seeing the pendulum swinging back to investors."