China Pledges to Tackle Housing Problem in Biggest Cities
China pledged to solve the housing problem in large cities at its top legislative session, as monetary loosening after the pandemic spurred a rush to real estate in the biggest hubs, pushing home affordability there to the worst ever.
"We will address prominent housing issues in large cities," Premier Li Keqiang told the National People's Congress in Beijing on Friday. "We will make every effort to address the housing difficulties faced by our people, especially new urban residents and young people."
Li repeated President Xi Jinping's mantra that houses are "for living in, not for speculation" in the key report, signaling that policy makers may maintain a tight rein on the bubble-prone sector. "We will keep the prices of land and housing as well as market expectations stable," he said.
The nation will increase the supply of subsidized rental properties and "shared-ownership housing" -- homes that are co-owned by individuals and the state -- through measures including land supply, credit lines and construction, Li said. The tax burden related to rental apartments will also be lowered.
In a new five-year plan covering 2021-2025, China said the government will press ahead with the legislation of a property tax, a policy previously raised yet never executed.
The tax is seen by some analysts as both the most significant measure for cooling speculation and the riskiest, since it has the potential to upend the positive market sentiment. Li has said several times that the government will carry out the plans.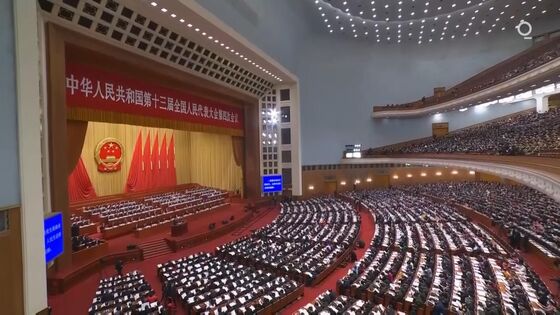 A strong economic recovery, combined with a credit surge and a renewed fear of missing out have stoked buyer enthusiasm across China's largest cities, despite stricter curbs this year. Guo Shuqing, China's top financial regulator, said this week he's "very worried" about risks emerging from bubbles in China's property sector, cautioning that it's "very dangerous" that many people are buying homes for investment or speculative purposes.
Last year, the cost of an apartment on average became equal to 9.2 times a resident's disposable income, the highest since private home ownership began in 1998, according to E-House China Enterprise Holdings Ltd.'s research institute. In Shenzhen, the ratio was 43.5 times as of June, only a notch better than Hong Kong, the world's least affordable city, a separate report by the institute shows.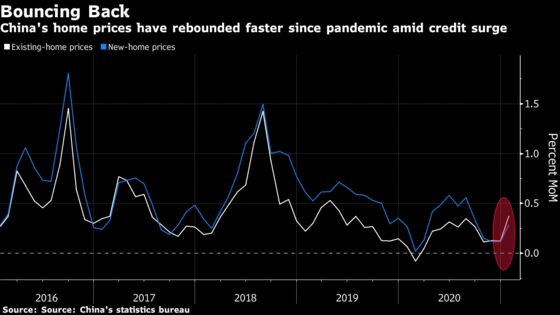 Still, home prices in the secondary market, which faces less government intervention, gained the most in 18 months in January, the latest official data show. Existing-home prices of certain popular projects in Shanghai surged more than 30% last year, according to China Real Estate Information Corp.
Policy makers have responded with a slew of novel policies to fine tune the industry, including a new mechanism on banks' real estate lending and fresh bidding rules designed to curb high-flying land costs. Down payments in the biggest Chinese cities -- as much as 80% of housing value -- are already higher than those of global peers, so authorities have focused on plugging loopholes such as speculation via fake divorces.