China Offshore Syndicated Loan Issuers Expected to Pay Higher Costs
(Bloomberg) -- After sliding for six straight years, borrowing costs of Chinese companies from the offshore syndicated loan market are expected to grow in 2019 as lenders' funding costs rise and defaults from the country surge, according to a Bloomberg survey.
Here's what the survey of 32 bankers in the region shows:
Some 14 of 32 loan bankers said their banks need more returns to get through internal threshold from syndicated lending to Chinese firms this year compared with 2018
Among the 14 bankers, nine require at least 20 basis points more
Some 23 of the respondents want at least 150 basis points of an all-in pricing, which includes an interest rate and a one-off handling fee
With Chinese offshore syndicated loan costs still near a decade-low, lenders are seeking higher pricing to cushion margins squeezed by rising competition. Such demand is getting louder as default risks deepen amid a faltering economy and trade tensions with the U.S.
"Pricing on marginal names should be widening as they have less access to liquidity and banks are trying to request higher returns now," said Sheau Huei Wang, head of syndicated finance at China Minsheng Banking Corp.'s Hong Kong branch. "For better names, banks will still try to accommodate even if they offer similar pricing compared with previous years."
The average margin of China Inc.'s greenback- and Hong Kong dollar-denominated syndicated loans slumped by 96 basis points to 207.65 basis points in 2018 from 2012, according to data compiled by Bloomberg.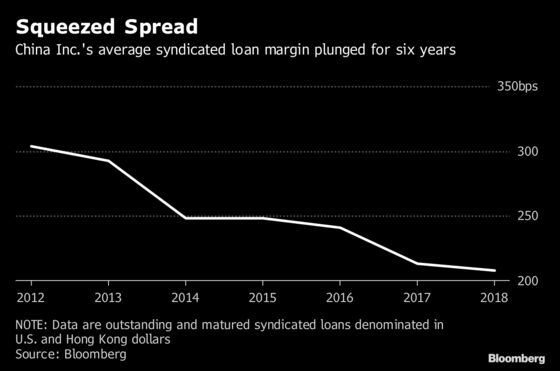 Property developer China Overseas Land & Investment Ltd. is currently offering 7 basis points more all-in for a HK$20 billion ($2.5 billion) five-year loan compared to that of a HK$18 billion same-tenor facility from 2017. Financial leasing firm Far East Horizon Ltd. also plans to pay a margin of at least 10 basis points more for a three-year loan of $580 million-equivalent compared to its previous facilities.
The survey findings on China are also a stark contrast to those of its Australian and Southeast Asian neighbors, where only about 20 percent of bankers said they are looking for higher all-in pricing.
The 32 bankers from 30 lenders across China, Hong Kong, Taiwan, India and South Korea were interviewed by Bloomberg News via phone or email in January. Based in Hong Kong, Taiwan and mainland China, their banks are among the most active participants in Chinese offshore syndicated borrowings. Bloomberg News also interviewed 38 other bankers in Southeast Asia and Australia for the same survey.