Court Freezes China Minsheng Stake in Valuable Shanghai Land
(Bloomberg) -- China Minsheng Investment Group Corp.'s stakes in two property-related firms have been frozen by a court, exacerbating funding woes at the private investment giant that recently missed a bond payment.
Shanghai's Financial Court seized the company's stakes in China Minsheng Jiaye Investment Co. and China Minsheng Bund Real Estate Development Co., valued at a combined 13.2 billion yuan ($1.9 billion), according to filings dated Feb. 1. The latter holds a prime-locale land plot in Shanghai, which was purchased in 2014 at what local media reported was a record price. Calls to China Minsheng Investment Group's financing manager went unanswered.
Shanghai-based China Minsheng Investment is being closely watched by investors as it owed about $34 billion as of June, one of the biggest debt piles among the nation's private sector companies. The court-imposed freeze on some of its holdings may hurt the firm's ability to raise funds, especially as majority of its bonds are set to mature this year.
China Minsheng Investment didn't repay investors a 3 billion yuan bond that matured Jan. 29, then pledged to give them their money back three days late, Bloomberg News reported last month. But that didn't happen.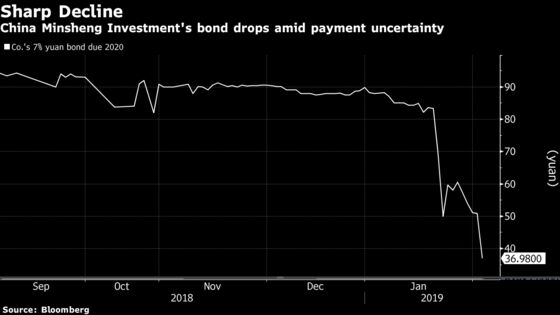 Three bonds of China Minsheng Investment were halted from trading on a Shanghai stock exchange platform from Tuesday. Its 7 percent yuan note due 2020 slumped 14 yuan to record low of 36.7 yuan in the last trading session.
Shares of two developers backed by the company plunged Tuesday with China Minsheng DIT Group Ltd. slumping as much as 31.9 percent and Yida China Holdings Ltd. down as much as 8.4 percent.
Founded in 2014 with a capital of 50 billion yuan and a mandate to help Chinese private enterprise expand globally, Minsheng Investment has grown into a sprawling conglomerate that's comparable to Fosun International Ltd., or a smaller version of HNA Group Co. Dong Wenbiao, former chairman of China Minsheng Banking Corp., led the firm until his retirement last year.
Similar to those peers, Minsheng Investment went on a spending spree through 2017. Its acquisitions spanned a business-jet charter operator and a Bermudan insurer, while the firm also put up capital for investments in new energy, health care, and a string of other units. It sold Business Aviation Asia Ltd. last month, and Sirius International Insurance Group listed on the Nasdaq in November, with investor Jim Rogers as a board member.
Minsheng Investment's global advisory board has included figures such as former French Prime Minister Minister Dominique de Villepin and former Italian premier Romano Prodi, according to the company's website. The firm named Thai food producer Charoen Pokphand Group's vice chairman Yang Xiaoping as its co-chair on Monday, according to China Minsheng's official WeChat account.
Some investors including China Oceanwide Holdings Group have pulled out of Minsheng Investment in recent years. Still, it had 63 shareholders as of October and total assets of about 310 billion yuan as of June, according to a filing.