China Metals Giant Pushes Further Into Africa in Bauxite Hunt
(Bloomberg) -- China's largest state-owned aluminum producer is pushing further into Africa to secure supplies of raw materials used to make the metal.
Aluminum Corp. of China Ltd.'s Hong Kong unit plans to invest as much as $164 million in the Boffa bauxite project in Guinea, which has a total cost of $706 million, Chalco said in an exchange filing. While the investment's been approved by the board, a shareholders' review is pending, it said.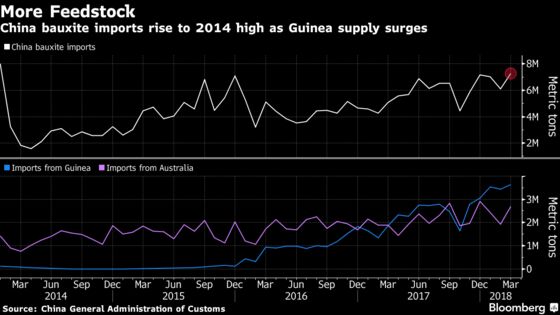 After supplanting Australia last year, Guinea is now China's largest supplier of bauxite, the material that's made into alumina, then processed into aluminum. The West African nation shipped 27.6 million tons to the mainland in 2017, about 40 percent of total imports. Local output is set to go on rising, with BMI Research forecasting 5.8 percent growth in supply a year through 2027. Chinese metal firms are stepping up overseas acquisitions "to stabilize the supply of raw materials," according to Bloomberg Intelligence.