China May Boost Cotton Imports to Cut Xinjiang Fiber in Exports
(Bloomberg) -- China could import more cotton to replace fiber from Xinjiang that's being rejected by some Western companies and threatens to hurt its booming textile export industry.
The U.S. bans entry of all products containing cotton from Xinjiang, which accounts for over 80% of China's output, because of concern over the human rights situation in the region. Hennes & Mauritz AB, Nike Inc. and Adidas AG have become ensnared in the row, drawing consumer ire in China for pledges not to use cotton from the area, a major supplier in the global supply chain.
"The only option right now may be to increase cotton imports as export orders for some textile mills will suffer if they use local fiber," said Xu Yaguang, an analyst with Huatai Futures. Xu sees so-called extra cotton import quotas this year returning to the 2019 level of 800,000 tons with an increased requirement for high-quality fiber. The government issued 400,000 tons of extra quotas in 2020, and has not so far issued any for 2021.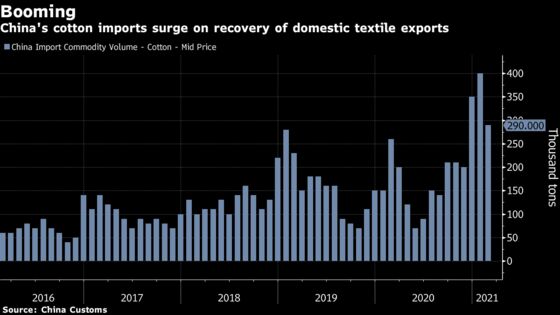 Consumption of Xinjiang cotton could drop by as much as 20% as the export outlook for products containing cotton from the region is not very bright, said Wu Faxin, a veteran cotton trader with industry portal shaxianbao.cn. Wu expects exporting countries such as Brazil and those in Africa to benefit from the additional demand.
Wu Yan, head of the Better Cotton Initiative (BCI) in China, told state television the decision by its headquarters to cut ties with Xinjiang growers will block about 500,000 tons of fiber from the region from entering the global supply chain. The group in China said it has not found any forced labor in Xinjiang since 2012. Members include world retailers and brands such as H&M and Nike.
Some cotton yarn factories in Xinjiang are cutting employees because of poor sales after some global brands chose not to source cotton and yarn from the region, the China Daily reported Monday, citing a local official. Suppliers of the retail brands no longer place orders with local producers. "The real victims of the false accusations of 'forced labor' in Xinjiang are the large numbers of vulnerable cotton growers and textile workers," it said.
Some analysts also doubt that the U.S. can effectively test for Xinjiang cotton in every shipment of textile products. Apart from exporting finished goods, top textile shipper China also sends intermediate products to third countries. Vietnam, for example, sources 50% of its cotton yarn from China and more than 60% of its cotton cloth, according to Huatai's Xu.