China Liquor Stocks Slide as Tax Rumor Rattles Investors
(Bloomberg) -- China liquor stocks tumbled in the afternoon on speculation the government may raise taxes on some products, though Bloomberg could find no official report any levy is in the works.
Kweichow Moutai Co. slid 3.5 percent to its lowest close in three weeks, while Luzhou Laojiao Co. and Jiangsu Yanghe Brewery Joint-Stock Co. slumped more than 6 percent. A measure of consumer staples fell the most among the 10 industry groups on the CSI 300 Index, which has retreated every day this week.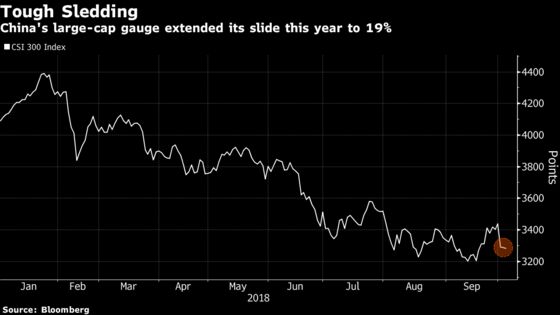 China's stock investors are edgy amid signs of an economic slowdown and as a trade showdown with the U.S. escalates. China's benchmark stock gauge has tumbled 18 percent as one the worst performers in the world this year, and the yuan has fallen near 7 to the greenback, a level last seen in 2008.
"As China's economy shows more and more signs of slowing, people are becoming less optimistic about the long-term trend for high-end liquor names so some funds will rush to dump shares when such a rumor breaks out," said Zhang Gang, a Shanghai-based strategist at Central China Securities Co.
An employee with investor relations department of Kweichow Moutai said it is unaware of the speculated tax increase.
China's investors have in the past turned to so-called defensive shares like consumer staples and health stocks because they are seen as immune from the trade dispute. Kweichow Moutai and Luzhou Laojiao make a liquor that is mostly favored by Chinese drinkers.
Both of those stocks doubled in value last year, but are in the red in 2018. An indication the shine may be coming off Kweichow Moutai appeared in August, when China International Capital Corp. cut the liquor maker from its top A-share picks.
The brokerage, one of China's biggest, also removed Tencent Holdings Ltd. from its list of top offshore Chinese stock picks, and the Chinese Internet giant has since lost its spot as one of the world's 10 biggest companies. Tencent fell 2.5 percent on Wednesday, taking its losing streak to a record ninth session.