China Boosts Short-Term Cash Injection to Ease Liquidity Worries
(Bloomberg) -- China's central bank increased its short-term cash injection for the first time since March as it moved to soothe market concerns about liquidity conditions ahead of the quarter-end.
The injection of 30 billion yuan ($4.6 billion) marked an end to the People's Bank of China's practice of adding 10 billion yuan each trading day for the past three months. The move bodes well for liquidity prospects in the second half, as some 4.15 trillion yuan of medium-term policy loans will mature by December.
"The market now believes that they know the PBOC's cards -- it will keep liquidity reasonable for the remainder of the year," said Wan Kelin, an analyst at Topsperity Securities. "Even though there may be some fluctuations throughout that course, the theme is the same."
China's overnight borrowing costs posted the largest one-day decline in almost three months as PBOC's injection eased money-market jitters fueled by quarter-end regulatory checks on banks and the issuance of local government bonds. The move also suggested that policy makers are matching action with rhetoric after a central-backed editorial recently criticized what it said are "baseless" predictions about a tightening in liquidity.
Read: Great Wall of Maturities Leaves Markets Hanging Onto PBOC Moves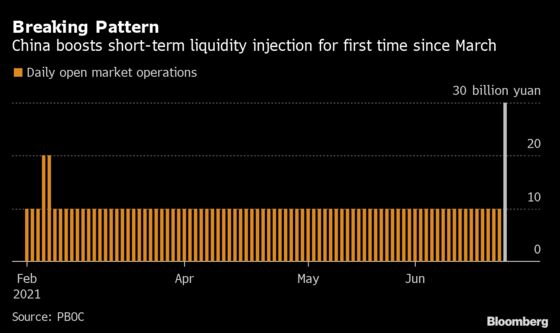 The overnight repurchase rate, a gauge of interbank funding costs, dropped 35 basis points to 1.83%, the largest one-day decline since April 2. The rate has traded in a 50-basis point range this month. The most actively-traded contract of one-year debt dropped four basis points to 2.39%. China's benchmark equity CSI 300 Index rose 0.2%.
Fears of a government bond rout have grown of late, with regional authorities expected to sell some 660 billion yuan of debt this month in a move that could drain interbank liquidity, according to Citic Securities Co. Chinese banks may also become less willing to lend toward the end of June as they prepare for regular liquidity checks by the authorities, reducing cash levels in the system which could be used to buy bonds.
Investors will be watching to see if the central bank injects more cash into the system in the coming months with a swathe of loans set to fall due by December. The maturity of medium-term policy loans in the second half will be more than three times the size seen in the first six months, data compiled by Bloomberg shows.
Short-term funding costs were not excessively high before the operation, and banks were willing to lend out overnight cash after the PBOC injected liquidity, according to a trader. Seven-day funding remains expensive as it covers the quarter-end period, said the trader, who asked not to be named as he's not allowed to comment on the rates market publicly.
For Becky Liu, head of China macro strategy at Standard Chartered Plc, the injection could be aimed at keeping markets stable ahead of nationwide celebrations for the Chinese Communist Party's 100-year anniversary on July 1.
"It's more of a pre-cautionary measure to make sure there's no liquidity stress in the coming half year-end, even when interbank liquidity conditions aren't tight," Liu said. "The PBOC will be proactively managing interbank liquidity conditions to meet the policy stance of being 'reasonably accommodative.'"